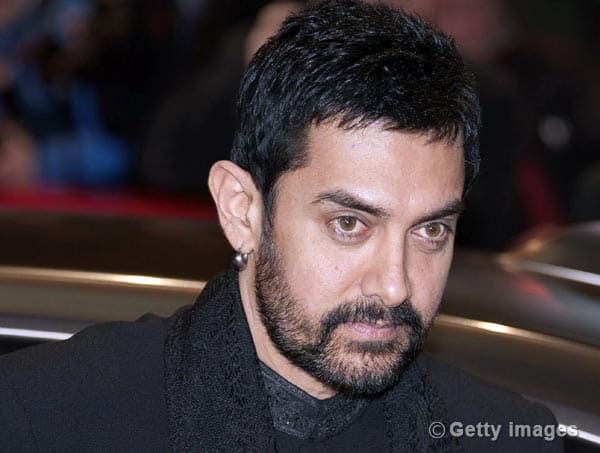 As the 'intelligent' Khan of Bollywood turns 48 today, we take a look at his filmography…squished into a nutshell
Born on March 14, 1965, Aamir Khan belongs to a film family in Mumbai. His late uncle Nasir Hussain was a hotshot filmmaker at the time, and his father Tahir Hussain was also a producer-director. The actor's parents made sure he had a normal upbringing, going to the local school. But then he debuted as child actor in Yaadon Ki Baaraat, which set his fate rushing down a rather hatke path.
Later, seeing his family in the business of entertainment, Aamir developed a passion for the movies. And when he acted in and assisted on his first experimental film – titled Paranoia – with classmate Aditya Bhattacharya, the young Aamir knew it was what he wanted to do for the rest of his life. And his friendship with Aditya resulted in a dark film that is still hailed as unique in his career, the intense Raakh, where Aamir played a man who avenges his girl's brutal rape through murder.
The young Khan left college after 12th grade and began assisting Nasir Hussain. Later, his uncle famously announced that his nephew will topline their production house's make or break film, Qayamat Se Qayamat Tak (his debut was in Ketan Mehta's Holi). And the rest is now part of modern cinematic history. QSQT catapulted Aamir to dizzying heights of stardom, so high that he had to really slog to maintain his position.
A few successful films and some flops later, the Khan came back into the big league with Dil, another love story. He showed immense range with films like Dil Hai Ki Manta Nahin, Jo Jeeta Wohi Sikandar, Andaz Apna Apna, Hum Hain Rahi Pyar Ke, Rangeela, Sarfarosh, Raja Hindustani, Ishq, Ghulam and 1947: Earth – playing action hero, cop and negative roles, tapori, sportsperson and comic lead. By this time he was called the Perfectionist Khan of Bollywood, but also becoming known as the interfering actor by some directors. He insists that it is just that he knows and wants to know everything about cinema and so likes to help his team in every department.
The reclusive actor surprised people when he reinvented himself by producing and acting in the Oscar-nominated Lagaan. Another film in the same year, but released after Lagaan showed him as an über-cool urban rich boy: Dil Chahta Hai. Two trend-setting movies in a year was a definite first for the deliberate Mr Khan.
Over the next three years, Aamir lay low. His much-awaited The Rising: Ballad of Mangal Pandey was a dud. But the thespian bounced back with Rang De Basanti, creating almost a small revolution in the hearts of young people. Quirkily, he followed it up with a very commercial but performance-backed and enjoyable Fanaa.
Only an actor of Aamir's calibre could time his entry for after the interval in a movie that was his own baby – his directorial debut and home production Taare Zameen Par. With TZP, the actor was now considered to be a high-calibre filmmaker, a dream he had always nurtured, and he won millions of new fans with this venture.
What could top that? A zillion more admirers added after 3 Idiots, his 2009 film. But it was 2008's Ghajini, a remake of actor Suriya's Tamil hit that made Aamir the Rs 100 crore Khan. And just as every other star projected himself as the new one to cross the milestone, Aamir acted in a small World Cinema film – his second wife Kiran Rao's Dhobi Ghat: Mumbai Diaries, and produced an indie-like Peepli:Live. He followed that up with producing the crazy Delhi Belly, where he did an item song with Tom Cruise's Tropic Thunder-like hairy appearance and mannerisms.
Last year, viewers saw Aamir deliver a multi-layered performance in Talaash. The coming months are a huge challenge for the Khan, with his biggest action movie and negative role Dhoom:3 up for release, and later Rajkumar Hirani's P.K., where he is said to play an alcoholic suffering memory loss.
Here's wishing Aamir Khan a very happy birthday and good luck!