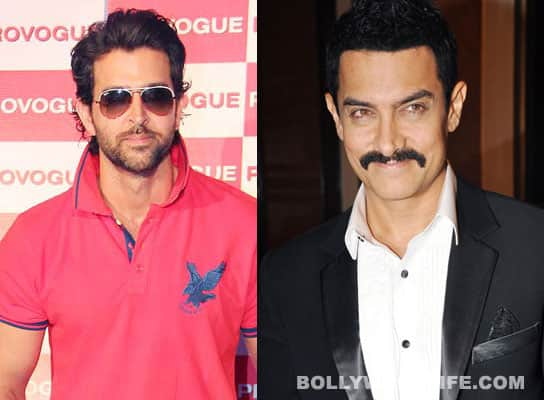 Dhobi Ghat and Zindagi Na Milegi Dobara will be screened at the River To River film fest in December. Cineswami takes a look at other Indian and Pakistani films at the fest
Well, technically not them, but their films. Zoya Akhtar's Zindagi Na Milegi Dobara, starring Hrithik Roshan, has been selected to screen at the annual River To River film festival in Florence, Italy that unspools December 2-8. Kiran Rao's acclaimed Dhobi Ghat, starring hubby Aamir Khan will close the festival. The fest will open with Anindo Bandopadhyay's Bengali film Chaplin, about how a Charlie Chaplin impersonator ekes out a living. Actor Rudranil Ghosh will participate in a Q&A after the screening. He isn't exactly Aamir or Hrithik, but the good folk of Florence have no other choice, short of flying to Mumbai and hanging out outside the stars' houses hoping for a dekko.
This being Nobel laureate Rabindranath Tagore's 150th anniversary, the festival is celebrating him with several films. First up is Satyajit Ray's masterful documentary on Tagore, rather surprisingly titled – Rabindranath Tagore. Ray's exceptional The Home And The World (Ghare Baire) also screens, as does Tapan Sinha's Hungry Stones (Khudito Pashan) that's based on a Tagore story. Ray's Tagore adaptation Three Daughters (Teen Kanya) also finds a place in the programme.
Shoaib Mansoor's polemical Pakistani film Bol that had a failed India release a few months ago will find a new audience in Florence. Italian Pakistanis will wet themselves with the news that actress Zaib Rehman will be present for a Q&A. No, she's not one of the hotties – she plays the mother in the film. At least it'll be a welcome distraction from seeing half their cricket team, including their captain, thrown into a British jail for match fixing. Those preferring to catch 40 winks instead can watch student films made by FTII and Whistling Woods inmates. But those determined to remain in a Pakistani frame of mind can catch Dreaming Taj Mahal, a film about a Pakistani taxi driver who dreams of visiting India to see the Taj Mahal, but can't get a visa for love or money. Just Google it bhai.
Shyamaprasad's Malayalam film Elektra, an adaptation of the Greek myth is of interest because of two hotties – Southern bombshell Nayantara and the newly svelte Manisha Koirala. Singham villain Prakash Raj is also in there somewhere, hamming it up, as is his wont. Kavalmaniyam Jagannathan's brilliant Tamil and Hindi Videokaaran, about the complex cinema-fan relationship in India is easily the pick of the fest. Jonas Pariente and Mathias Mangim's Next Year in Bombay looks at the Jewish community in the city. And Rohan Fernando's English and Tamil Snow tells the story of tsunami survivors.
No fest is complete without Q's Asshole (Gandu) and Florence duly obliges. If a documentary about arranged marriage is what gives you your kicks, then Daniela Dar-Creutz's Arranged Happiness is just the ticket for you.
Now all you need is a ticket to Florence. Enjoy.