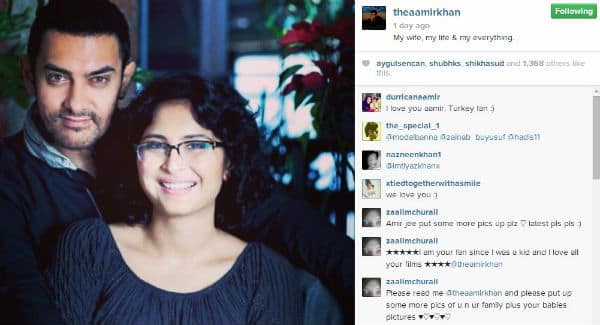 Giving SRK company on social media is none other than the Perfectionist Khan of B-town
Aamir Khan is on Instagram! This reclusive Khan who took to Twitter, is now expanding his reach and giving fans a little more insight into his personal space. And AK's posts definitely made us smile, especially the one where the P.K actor wrote in one of his posts, "My wife, my life & my everything". Welikes! The actor started his Insta journey by writing, "No time for tweeting, just time for posting my pictures in small boxes which represent my daily days. Good morning!" This post was also accompanied by a picture of the Dhoom:3 star.
Aamir seems to be off Twitter and is now smitten by this new medium. We're sure he will find plenty of other B-towners here especially Shahrukh Khan, Priyanka Chopra, Sonakshi Sinha, Deepika Padukone, who often post regular updates and pics. However, the only two Bollywood faces that Aamir is currently following are Abhishek Bachchan and Yo Yo Honey Singh.
With Aamir on board, we can now see a little more of this otherwise super busy Khan!