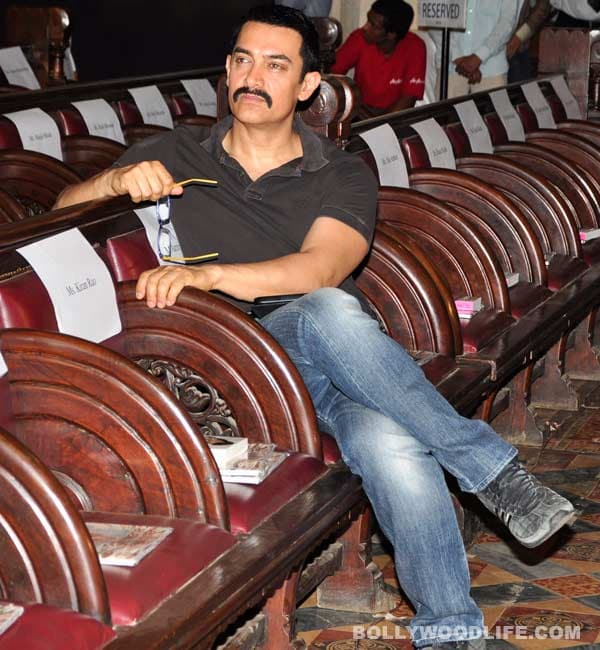 So he had to work hard not to be distracted by his co-stars, he says. Aamir Khan speaks about his latest film, Talaash and what makes him do what he does so well
How did the idea of Talaash come up? What made you accept the role?
Zoya Akhtar and Reema Kagti came to narrate the script to me, and I just loved it. After a long time in Hindi cinema, we will see a suspense drama – and such a riveting one, with a deep emotional core. I like that it is an unusual and also intriguing combo.
On working with director Reema Kagti…
Reema is a director who is very au fait with her subject. We hadn't interacted a lot during Lagaan, but were totally immersed with Talaash. Her confidence in what she requires, her in depth preparation of material and how to imbue it with the actor is wonderful. No compromises were made and I was very comfortable working with her. She knew deep layers of my character, which was quite amazing.
This is the third time you've worked with a female director (not to mention producing female directors like Anusha Rizvi) – is there a difference in approach, perhaps, from working with men in the industry?
Yes, as a, actor I have worked with Deepa (Mehta), Kiran (Rao) and now Reema. All are extremely wonderful and capable directors. They know exactly what they are looking for in a shot. I would say that actually their approach is a purely individualistic trait and nothing to do with gender. The process of cinema and storytelling – for too long it's been the male perspective on life and relationships. I'm happy to support women directors, with their fresh mindsets in the world of cinema. Also, there is more opportunity now for new-age filmmakers and writers, which is not dependent on country, region or gender.
Your role in Talaash…
I play Inspector Shekhawat, who is investigating a case. At the core of my character there is loss and coping with loss. It's an emotional story. I like to create the characters I play in behaviour – each day I have to believe what is happening to the character is happening to me. You have to watch it to glean the rest.
You have two talented leading ladies in Talaash, Rani Mukerji and Kareena Kapoor…
It's been a while since Ghulam and Mangal Pandey: The Rising, so it was nice to reunite with Rani on screen. And 3 Idiots also seems a long time ago – that was working with Kareena. Both are very pretty, so I had to work at concentrating on the job, without getting distracted (laughs). I like the energy they bring and how they worked with me as part of the larger team. They are both very nice human beings.
Ram Sampath has delivered again for you, creating evocative music, like in Delhi Belly….
The music of Talaash, is Ram and Reema's creation. I am in love with the film's songs. They just grow on you. Ram and I have worked on Delhi Belly and Satyamev Jayate. In Ram we see a star who is born, who creates absolutely outstanding music. Ram is a person who has been around a long time, and worked on tons of commercials, and has experience as a composer. His time had come, to make a big mark in Hindi films and cinema and he has matured as a composer. He also loves to experiment. I really feel that his contribution is immense.
How did you prepare for your role as a cop and keep the 'look' for so long?
Reema had done extensive research for the role. I did go to Khar police station in Mumbai a couple of times in the night to see the night vigilance team at work. As I work on one film at a time, keeping the look is never an issue.
Being part producer, also lead actor – was this easy to juggle?
In this case, Farhan (Akhtar) and Ritesh (Sidhwani) were more hands-on as producers, so it was easy for me. I didn't want to produce ever in my life, as I've seen what my father went through. I was happy to act – production was the last thing on my mind – but when you want to make God laugh, tell him your plans. I ironically ended up producing films that no one else would touch. They've been successful, but I don't know why. I do give all the work I choose to do, my all.
Coming together with Excel after the iconic Dil Chahta Hai…
Yes, it's been almost a decade since we worked together. It's a wonderful team to work with and they are extremely creative. They work in a collaborative style, so they listen to each other's opinions and decide what needs to be done.
Like Dhobi Ghat, you chose to work in real locations – what were the challenges, with your super-stardom?
Reema was very clear from beginning that she would shoot at real locations. She wanted to capture Mumbai in its real form. It has been difficult for the entire team, however – the light, the ambience and locations can never be replaced by shooting in an indoor studio. It is totally worth the effort.
The climax was shot at Pinewood Studios in London, underwater…
We earlier thought of shooting this in India. It was extremely smooth shooting there and a nice experience, but also a tad petrifying when swimming underwater. The UK is always enjoyable.
You embraced your spiritual side by taking your Mother to Mecca…
I promised my mother that I would take her to Hajj; it was a promise made almost a year ago. It's been an extremely special experience and an unforgettable one. I have really cherished spending time with my mum.
Satyamev Jayate, like your film Taare Zameen Par, has helped change policy within the government and has changed so many lives – what compelled you to be the social activist?
Uday Shankar of Star TV had approached me for a game show and that's when I told him of this idea, saying that if I were to come on TV, then it would be in something like this and asked if it would interest him. He just loved the idea. It was an overwhelming response that we got from the people. It's about raising awareness. Season 2 is on the way and we are working on it, on the research side. Once Dhoom:3 and Rajkumar Hirani's Peekay are done, we will begin shooting.
Dhoom:3 brings you back to Yash Raj Films after a long hiatus, and you have always played a very good villain…
I will say that it is a pleasure for me to work with Yash Raj Films once again. The Dhoom theme tune gives a swing to my step and the script, by Victor (Vijay Krishna Acharya) really won me over.
Your 'brand' of cinema has changed a lot over the years and you are bringing 'unusual' indie films, like Peepli:Live, Dhobi Ghat and Delhi Belly to Indian cinema – how important do you see this being for the perception of Indian films by the world and even within India?
As an actor, I have always enjoyed working on films that push the envelope on the commercial format. Whether it's Lagaan, Dil Chahta Hai or Taare Zameen Par, that is how I choose my films. Peepli:Live, Dhobi Ghat and Delhi Belly are films I have loved, and hence produced. Ultimately, for me, the script should excite me, whether as an actor or producer. I have also shown that art-house movies, which would collect so little in the past, are now able to make some serious money.
What's next, for Aamir Khan?
I start work on Raj Kumar Hirani's Peekay and there is SMJ season 2. And the rest is on the horizon and we'll talk about it later.
A message for the fans?
Do communicate with me via my social media pages and let me know how you feel about my work.