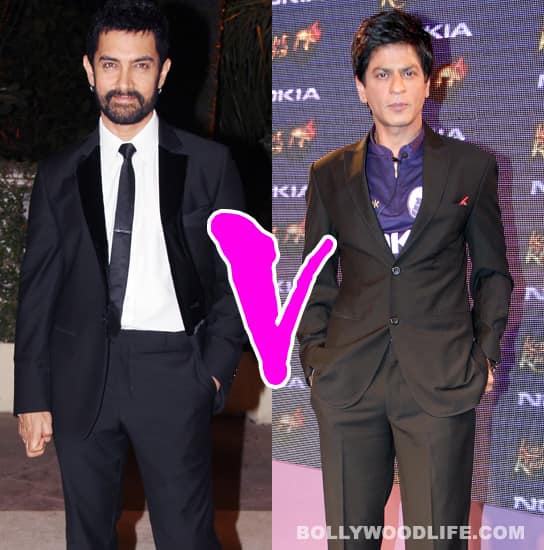 The two stars' upcoming films are set to clash once again this Diwali…who will win this one, we wonder!
Aamir Khan and Shahrukh Khan have always been at odds. With both of their big films slated to release this year, it was expected that their rivalry would get even more bitter. Though there are several months left for the films to release, Aamir has already taken the first step in the battle. He has changed the release date of his next big film, Talaash, co-starring Rani Mukherjee and Kareena Kapoor. The thriller, produced by Excel Entertainment and directed by Reema Kagti, was slated to release on June 1, but will now hit the screens on November 30 instead. So? Shahrukh Khan's big love story, produced by Yash Raj Films and directed by Yash Chopra himself, will release during Diwali. The festival comes between November 13 and 15 this year. That gives SRK's as-yet-untitled film just two weeks before Talaash replaces it in the theatres. Add to that, this: every cinemagoer who goes to watch the Yash Chopra flick will be greeted with banners and trailers promoting Aamir's film. We know that because Aamir has done it before.
Aamir and Shahrukh clashed four years ago in a similar situation. Shahrukh's Rab Ne Bana Di Jodi (incidentally, another YRF flick) released on December 14, while Aamir's Ghajini released two weeks later on December 28. All those who came to watch RNBDJ were greeted with ushers sporting Aamir's trademark haircut from Ghajini. Aamir's trailers were also screened during SRK's film. The result? Ghajini's box office collections were much higher than that of RNBDJ.
Of course, the official reason for the change of Talaash's release date has nothing to do with the film itself. Ritesh Sidhwani confirmed that all the post-production work on the film is almost complete, but the date was changed because Aamir's television show will be going on air in June. Aamir won't be able to devote the time necessary to promote Talaash when he is busy with his show. So to do justice to both of Aamir's ventures, the decision was taken to change the release date of the film.
History, they say, repeats itself. But we are sure that after having borne the brunt of Aamir's handiwork the last time around, YRF head honchos are not going to let it happen again. There's a lot riding for them on this film, especially since it is Yashji's comeback directorial venture. Aamir shares a special relationship with YRF because of Dhoom 3 and we won't be surprised if the production house swings into action and sorts out the mess – either by requesting Excel to juggle things around, or changing the date of their own film's release. After all, YRF had changed the release date of their Salman Khan-Katrina Kaif-starrer Ek Tha Tiger from June 1 to Eid on Aamir's request, as he wanted to release Talaash (then known as Dhuaan) on that date. It's time he returned the favour, don't you think?
ALSO READ: Yash Chopra's film with Shahrukh Khan and Katrina Kaif not a Daag remake