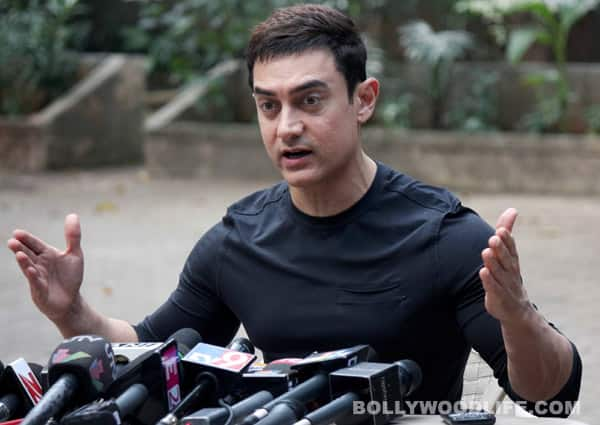 Mr Perfectionist of Bollywood is seen pushing the boundaries of cinema with his recently released suspense drama. But yeah, he is not expecting everyone to smile and accept the twist…
"We would love to have a success party," says Aamir Khan, as he walks in for an interview, wearing a tight black tee and brown trousers. The happy lines creasing his face are masked to a certain degree, by foundation.
Talaash wasn't a thriller. "The pace of a thriller is very fast. Something exciting is happening at every turn. There is more action. Talaash was never a thriller," Aamir had said. And the movie was promoted as a suspense drama, though it turned out to be – fans who are still oblivious to the BIG suspense, please shut your eyes – a supernatural film!
Did all this affect Talaash's success? Aamir Khan talks about the movie, under a tree in the compound of his residential society…
On limited promotions…
Every film is different. So when we promote it, it's always an effort to ready the audience for the kind of movie we've made. I was happy with the promotion plan the marketing team had prepared. And Talaash released when it was neither Diwali, Eid, August 15, nor any other holiday. It was just a normal Friday. And despite there being no special occasion, the movie did really well on the opening day. So I feel the marketing team's plan was a success.
On why people watched Talaash even after the suspense was revealed…
If a film is good, such things don't matter. We would have wanted to keep the climax a secret, because it is a suspense film, and the suspense should not be revealed. And I think a majority of the people have not revealed it. But there are certain people who have, and I don't think it's possible to stop them. Even so, I think Talaash is a film that people who already know the suspense are watching for the second time, just to savour other aspects of the movie. It has repeat value, and I'm happy about it.
On the box office collections…
I am very happy to see the collections. The weekend was very nice. Monday's collection was good. I think a majority of viewers experienced just the kind of emotions I did when I first heard the story of Talaash. So I'm very happy.
But I think collections only tell you a part of the story. Collection combined with audience response is important. The collection has been good, but as far as reactions are concerned, I would not say that 100 percent have been positive. To be totally honest, some people might not like a supernatural movie and I understand that. But luckily, 90 percent of the viewers have loved it.
On Talaash being different from Dhoom:3…
We knew from the beginning that this isn't a universal kind of movie that appeals to every class of audience. But still, it has done very good business, and the kind of audience for whom we had made the film, have liked it. For example, Dhoom:3 is a universal film that even a five-year-old will like. But Talaash is such a subject that even if you are a 10-year-old, you might get bored because it is very serious. I think the movie has got many good reviews. But it's not necessary that every person likes the film.
On Talaash being promoted as a suspense drama while it turned out to be supernatural…
If I tell you that it's supernatural, you will be able guess a lot of the movie. Even Sixth Sense did not say it's supernatural. You discovered that. If I open the cards so much, you will not enjoy it.
On the person behind making Talaash a success…
I would like to credit the success of this movie wholly to Reema Kagti, and to the team. As a director and a writer, she's done a good job of getting the movie on to the screen. The entire team including Rani Mukerji, Kareena Kapoor, Nawazuddin Siddiqui, Ram Sampath (for background music), costume designers and everyone who was involved in making the movie is responsible for its success. But I think Reema, who could take work out of all of us, deserves the credit.
On suspense movies in Bollywood…
The suspense genre is great according to me, because it's very intriguing; I've always loved reading Agatha Christie books. And we really have a lot of space in our industry for this genre, because we don't make so many suspense movies.
On why Talaash makes him happy…
I am happy that this movie is successful mostly because it's a different film that pushes the boundaries. So it gives a certain amount of strength to the creative people to make more of these movies. That's what I am particularly happy about.
With that, Aamir Khan signs off….