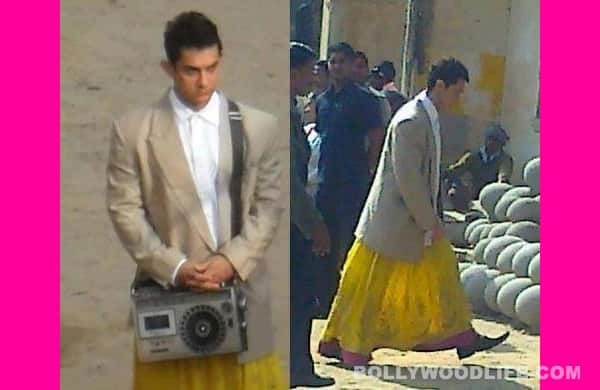 We had to giggle when we saw this picture, but the Khan's style is, as always, impeccable!
Men in skirts…well, that is becoming a style statement these days, what with a Mumbai-based artist – male – being seen in them, a well known fashion designer preferring them and a whole group of young men in Bangalore recently seen in the usually feminine garment as a symbol of support to a woman's right to wear what she wants, be who she is, exercise her rights, and be safe in her city. Whether that last form of solidarity in protest worked or not, we don't know, but what we do know is that no one does it quite like Aamir Khan, as always.
We found a sneak peek of the star-actor's look in P.K., his new film with Rajkumar Hirani, co-starring Anushka Sharma. Somewhere along the line we heard that she plays an alcoholic, then we were told that no, he acts out that role, and then…oh, forget it, whoever the drunk is we don't care.
What we liked was the casual, natural, almost-normal way in which Aamir strides along wearing his maxi-skirt. It looks like a Masaba Gupta design, but could even be a gypsy skirt from any Lambada wardrobe. The bright sunny yellow, the pink border, the generous pleats – hey, give it to our style gal and she will be very happy to swish around. Perhaps we would not choose the buttoned-up shirt and pale jacket, or those long-toes shoes, but if anyone can carry this one off with panache, it is aamcha Aamir. And it leaves us wondering what this movie is all about!
We like Aamir's new fashion statement. Do you?
Photo courtesy: Pinkvilla