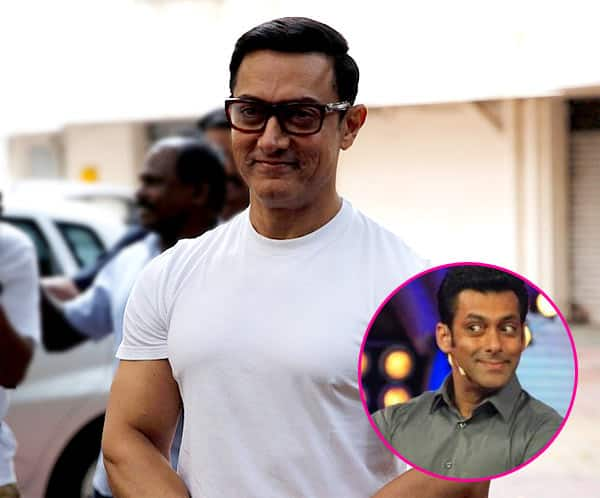 Aamir Khan isn't the kind who goes on television platforms to promote film. He has always maintained that nuance in his promotional strategy that he'll not go on television shows to promote his films. And he will continue to stand by this decision even for his upcoming film, Dangal. Turns out the actor will not promote his film on television as opposed to other celebs who make special appearances on high TRP shows. In a special screening of the making video of Dangal, the actor reportedly told media that he won't promote the film through Salman Khan's show, Bigg Boss 10. "I am not going on television to promote the film. We will have trailer and promo of our film" said Aamir, 51, to PTI when asked if he would promote the film on Salman's Bigg Boss.
"I am sure he loves to promote my film. Even I love to promote his film. I am dying to show him Dangal as well," Aamir added. Not just now but even during the poster launch of Nitesh Tiwari's directorial, the actor did state his wish to show his film to Salman. The contemporaries not only share age but this year, their movies also have the same backdrop. In July, Khan released Sultan which was a rage! In December, Aamir's Dangal will release and from the way the trailer and songs are shaping up, we believe it will be a bang on end to the year 2016! Both the Khans have been buddies since a long time now. In fact, during Dhoom 3's promotions, while Aamir wasn't physically present on Bigg Boss, Salman still promoted the film. That itself shows some strong friendship between them. (ALSO READ: Aamir Khan reveals his look from Thugs of Hindostan – view pics)
While the 51 year old actor has stressed on the fact that he won't be going to the high TRP shows to promote his film, he will definitely make sure the trailer is viewed. This assurance is enough for fans as they eagerly await the release of this biopic. The film stars Sakshi Tanwar, Fatima Sana Sheikh and Sanya Malhotra in pivotal roles. While Sakshi plays Aamir's wife in the film, both Fatima and Sanya play the famous wrestlers, Geeta and Babita Phogat respectively. Slated to release on December 23, the makers recently released a 'Fat to Fit' video of Aamir's drastic weight transformation for Dangal. If you haven't check it out yet, you can simply go HERE.
Do you think Aamir should share the Bigg Boss platform with Salman Khan like Shah Rukh did? What are your thoughts, BollywoodLifers? Tell us in the comments section below. Stay tuned to this space for more gossips and latest updates straight from tinsel town!
Aamir Khan's transformation in the making video of Dangal is extremely shocking

Aamir had to put on weight for his role in Dangal. The actor was not sure if he will be able to play the role of a fat man and had even considered giving up on the movie. The actor was not confident that he will be able to lose the belly fat.

Image credit: Youtube

Aamir Khan talks about how easy it was for him to put on weight

Aamir chose to do the overweight role first as he wanted inspiration to lose weight for his younger version in the film. He even spoke about his diet and how he ate ice cream, brownie and everything he could. In spite of the difficulties, Aamir says if the script is good he wouldn't mind doing another film which requires him to put on some weight.

Image credit: Youtube

Aamir Khan was scared as he touched 97 kgs during Dangal

Aamir spoke about how it was scary to gain weight and the fact that he only had 5 months to lose it, was scarier. The Dangal actor even revealed how he faced difficulty tying his shoe lace due to overweight. We can imagine how depressing that stage would be for the perfectionist. He even called Nitesh is Haanikaarak bapu in the film.

Image credit: Youtube

Aamir Khan felt horrible as he looked in the mirror during the shoot

We don't blame the actor for feeling horrible for putting on so much weigh. The actor began to panic when it was time to lose that weight. He even revealed how he would get depressed and motivate himself to lose weight.

Image credit: Youtube

Aamir opens up about his injuries during Dangal

Aamir had a lot of injuries on the sets of Dangal. He injured his ankle, back, shoulders and elbows. Thankfully none of those injuries were major and the actor continued to shoot for the film. The actor did have a major back injury and was asked to rest for 2 months but he was back on the sets within 2 weeks and with the help of strong pain killers and injections the actor continued to shoot. Aamir even had to do a blood test every 3 weeks.

Image credit: Youtube

Aamir Khan admits that he has started smoking because of the film.

Aamir talks about his high stress levels and opens up about smoking to relax himself till he gets the final copy of the film. Touching 97 kgs and then losing weight within 5 months is bound to get you stressed.

Image credit: Youtube

Aamir Khan is dying to show Dangal to Salman Khan

On being asked about Salman Khan the actor said that he hasn't received any calls from Salman but Aamir would love to show the film to Salman and even reveals how he would like to work with the Sultan actor.

Image credit: Youtube