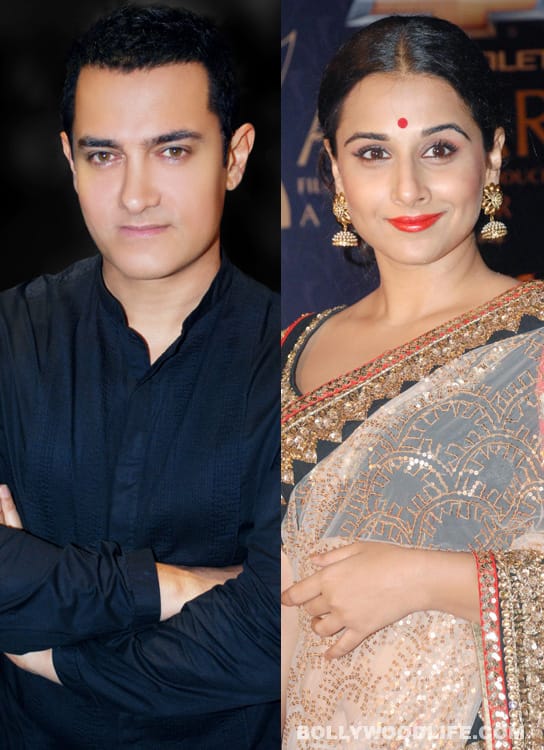 Often dubbed the female Aamir Khan for her exceptional acting skills and versatility, Vidya Balan has impressed the Talaash actor
When Vidya Balan was quizzed about her inspiration in Bollywood, the Kahaani actor candidly admitted that she thought of Aamir Khan before taking any risk in her career. And now, the powerhouse of acting, Aamir himself is going all praise for Vidya and has even expressed a desire to work with her. With films like No One Killed Jessica, Ishqiya, The Dirty Picture and now Kahaani, Vidya is certainly touching the peak of excellence. So much so that the 34-year-old is being touted as the next Shabana Azmi and some calling her the female Khan. Even Gulzar wants to make a film with her in the lead. What's more, noted filmmaker Anurag Kashyap went on to call Vidya a true successor to Aamir Khan.
When Aamir got to know about Vidya's new nickname in B-town, he felt that the Kahaani actor has made her own mark and she should keep her own identity. "I think we must call Vidya by her name only. Who am I for her to be getting my name? She is a very talented and wonderful actor. I would love to work with her," said Aamir to the media on his birthday. Though the Talaash actor has not seen Vidya's splendid work in Kahaani, he went on to congratulate her. He said, "I haven't seen Kahaani yet but I have heard very good things about it…and even about Vidya. People have appreciated and liked her recent films and I congratulate her."
We wonder what a deadly combination the two would make if they were to come together for a film! There would certainly be playful competition between the two star performers, what say?