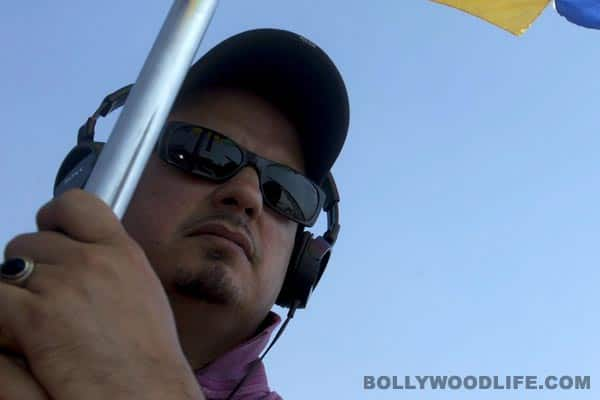 In conversation with filmmaker-actor-journalist-rebel Aditya Bhattacharya, whose film BMW was shown at the Mumbai Film Festival this year
Aditya Bhattacharya, filmmaker-actor, grandson of Bimal Roy and son of Basu Bhattacharya, made Raakh with Aamir Khan, married Sanjna Kapoor and was on his way to becoming Bollywood's big director in the late '80s. But he gave it all up for a life in oblivion in Europe. "Sometimes you need to walk away to understand and love her (Mumbai) more truly," says Aditya. He is making Raakh again in LA, and his film BMW: Bombay's Most Wanted was screened in Mumbai recently. Excerpts from a candid chat with him about life, Bollywood and Hollywood…
You went away from Bollywood and Mumbai because you didn't "want to become another dysfunctional, dynastic debutante". Do you look back and regret your decision?
Looking around at many colleagues and friends both of dynastic-descent and non, I feel blessed to have had (the possibility of) living life on my own terms. My regrets would have been if I had remained and simply exploited my position and connections and probably made many more mediocre movies, which I did not…so, no regrets and many thanks.
Why did you choose to settle down in Sicily? Did you miss India, its cinema and its people, its post-liberalisation progress all these years?
I sincerely believe, like many other self-exiled filmmakers around the world that being away in fact has given me an edge, a perspective that many Mumbai-based colleagues seem to lack. I know and love my city more than most people I know and I believe the same is apparent in my work.
On BMW – what inspired you to make a dark film on the underbelly of Mumbai? Is it the trend from Slumdog Millionaire or your fascination with the mafia?
I make the films that I want to see. The world, the characters that BMW explores are themes I have been obsessed with since Raakh, almost 25 years ago. The underbelly or the edges of my city tell us more I believe than what happens on the surface and in more genteel situations.
How did the casting happen for each of the main characters of BMW – Tannishtha Chatterjee, Jaaved Jaaferi, Chandan Roy Sanyal, Sarita Choudhury…?
I am fortunate that those whom I want to work with, want to work with me. Jaaved and me go back 30 years (neighbours in Bandra and even competitors in dance), the others I believe are the most talented actors I know of and were part of my thought process as I wrote the script. It took a little more effort to reach and cast Sarita and John Ventimiglia (from the Sopranos), but once they read the screenplay and met me, everything fell into place almost immediately. Now that the film is done, I will say again that I got my dream-team, the best of the best….
You said BMW is your love-letter to Mumbai…. Are you still attached to the city and want to come back?
I am born in Bandra and have my city inside and in my blood…that said, the manic-hustle of Mumbai and movie-dom is both irresistible and impossible. I always say that my city is both un-livable and un-leavable…. Sometimes you need to walk away to understand and love her more truly.
Tell us something about shooting with a female DoP Lisa Rinzler for BMW in crazy Mumbai.
Lisa, who has worked with both Martin Scorcese and Wim Wenders earlier, is a true cinema artiste. What she has brought to BMW, is unique and I personally believe no one else could have captured my beloved city and its eccentric characters better. She is a risk-taker and fell completely in love with both this crazy city and my motley crew and insane working methods and hours. It was an intense (sometimes tense) collaboration very simply because of how passionate she is about her craft and her high standards. I can confidently say that BMW is probably one of the best-looking Mumbai-based films that I have seen, period.
You first cast Aamir Khan in Raakh when he had had a successful launch as the quintessential chocolate boy hero in Qayamat Se Qayamat Tak. What was the reason? How was Aamir to work with as a young, raw actor and how do you see his tremendous progress now?
For the record, QSQT and Raakh happened in parallel and I cast Aamir much before Mansoor Khan had even begun to conceptualise his first feature.… We were classmates in school and, in fact, the year after we passed out (1982), I made my first short, called Paranoia starring Aamir. I have believed in him since that very first day and his success comes as no surprise to me. Very simply, he is one of the most focussed and hard-working people I know. During Raakh, he put his trust in me and all of himself into the film and character and today, I still believe it is one of his truest performances. At the right juncture, it would be wonderful to work together again but I believe we will both know when that moment arrives.
Why did you feel the need to remake Raakh in Los Angeles?
Two simple reasons, my belief and faith in Rana Dagubatti and my obsession with Los Angeles (through both living there and my de facto 'guru' the writer, James Ellroy and his work). Well, three reasons, the desire to revisit that innocence and the challenge of a first film – Raakh LA or A Momentary Lapse of Reason as it will be called, is my first English language, international feature, shot in the heartland of the movie-business, Hollywood so…in many ways it is like a first feature again.
Did you have any spiritual connection with your father or grandfather, both filmmakers? Which of their movies are your faves?
They are my spiritual and moral guardians that have constantly inspired and kept me from slipping into mediocrity and easy choices especially in difficult moments. For me, as was for them, filmmaking is a vocation and not a career. Especially in a place where many struggle to survive on less than a hundred rupees a day, it is important to remind oneself of the privilege that it is to make a movie, the journey and work of both Bimal Roy and Basu Bhattacharya are a constant reminder of the reasons why we do what we do and the responsibility of that privilege.
You directed an indie – Dubai Return – in 2005. What do you think of today's Indian films – both commercial and indie? Name the good ones you've watched recently, if any.

I used to think that the early nineties (the heyday of the 'multi-starrers') was probably one of the toughest periods to do / make anything different but I feel today, ironically with all the 'progress' with the new 'suits' in the studios and in the new feudal-corporate Bollywoodland, staying true to your own individual voice and dream is far more difficult than it ever was…. I believe however that the old Bollywood is now dead and the audiences are far ahead of the curve. The new voices and directors will come from regional cinema and places where the pressures to conform are less. That said, there are some brave new makers and true-believers in Mumbai, who are forcing change in the system from the inside. I am there with them, subverting the powers that be to make and empower tomorrow's brave new Indian cinema.
How do you think Bollywood is perceived in the US and Europe amongst all the hype?
Bollywood at best is a funny (and I believe, insulting) word for the mainstream European and American audiences. It is a word they know but no one watches an entire song-and-dance Hindi film with any seriousness. Except, of course, the 20 million expat Indians and communities who have a historical link to Indian cinema. We don't need the 'goras' to legitimise something that millions love and watch. It is difficult and a bit foolish to try and export a Jain Pizza or a Schezuan Dosa despite the fact that millions in India love it. The world wants authenticity and we have not been very good at that, but I believe things are changing and fast…Bollywood is its own specific and essentially un-exportable universe. But at one billion strong, who cares what they think?
How do you view the corporatisation of Indian cinema as opposed to family-owned studios?
I have always been curious about the very definition of a Pvt Ltd concern – essentially it means limited liability…. The filmmaking families that built the business had unlimited liability and took responsibility for their failures and successes; this industry is built by maverick visionaries who mortgaged their homes to make movies. I don't believe even a spot-boy works for money, we do it because we are crazy, about movies…. And that is something that runs contrary to any conservative corporate logic. That said we have a huge audience and the business will only grow, so there will be more and more multi-nationals and corporate entities in the fray – that is an inevitable fact.
Any plans of acting again?
I have less hair than when I started out in this line and every now and then people approach me to appear before the cameras. I, of course, have very high standards for my directors, so when the right one asks, why not?
Photo: Lorena Ros