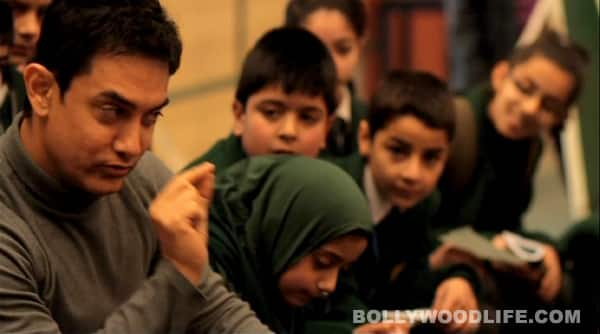 As the curiosity about his chat show hits an all-time high, Aamir Khan includes his baby boy Azad in the promos
When you are born into a filmi family, chances of making it big at a fairly young age are very high. And if your papa is as powerful a star as Aamir Khan, things get easier and quicker. Azad Rao Khan, Aamir's son from his director wife Kiran Rao, is barely five months old. But that did not stop him from facing the camera for one of the promos of his father's upcoming chat show, Satyamev Jayate. Aamir revealed in an interview that his son Azad features in one of the promo clips that were shot at his Bandra home. However, apparently it has been decided to keep the footage strictly for family viewing.
Apparently, Kiran was against shooting at the family home, but Mr Perfectionist aka Aamir went ahead with the shoot. "Half the time I shot the campaign, Azad was in my lap," said the 47 year-old-actor, adding, "Once when Kiran wasn't around, we even shot a promo featuring Azad. At first, I told her that we shot a promo with him and it looked very good. Then I told her that I was kidding and we wouldn't use it."
Talking about his baby further, Aamir said that Azad is a happy baby with a good temperament and an amazing smile. Now, we sincerely wish that Aamir changes his mind and gives us a glimpse of cutesy Azad in the show's promos. After all, who wants to miss the opportunity to see the future Mr Perfectionist, right?