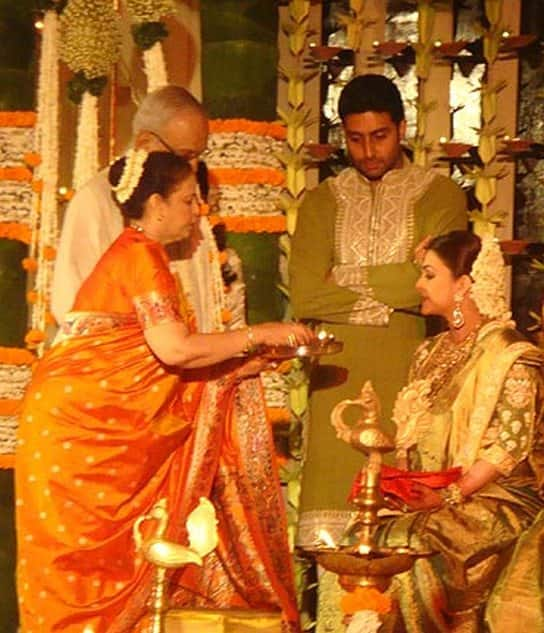 skip advertisement
Aishwarya Rai Bachchan and Abhishek Bachchan's daughter Beti B, as she is popularly called, has had quite an eventful year of life. And we trace it all in little baby steps…
Aaradhya Bachchan was born on November 16, 2011 to Aishwarya Rai Bachchan and Abhishek Bachchan. And since the time news of Aishwarya's pregnancy broke – precisely when she opted out of Madhur Bhandarkar's Heroine, remember? – there has been a lot of fuss around the Bachchans and their little Beti B. But that's quite natural, isn't it?
And Aaradhya's very first birthday offers a perfect opportunity for us to reminisce about the last 365 days that we have spent ooohhing and aahhing over darling Beti B! So what are you waiting for, readers? Sit back and enjoy these 'awww' inducing moments!
Aaradhya's baby shower pics!
Sneaky birdies managed to capture Aishwarya Rai Bachchan's godbharai photos. And these pics imply that the arrival of li'l Beti B is just around the corner. Yay!
Aaradhya Bachchan is born!
Aaradhya Bachchan was born around 10 am on the morning of November 16, 2012. And shortly after that Big B tweeted, "I AM DADA to the cutest baby girl!!" Also, proud father Abhishek Bachchan shared his happiness on the microblogging site by saying, "IT'S A GIRL!!!!!! :-)))))." Whoa, that was one hell of an awwww moment, wasn't it?
Beti B goes home!
The frenzy around Beti B had heightened, and a morphed image of Aishwarya with the baby went viral on the Internet. But that confusion was promptly cleared by AB Sr. Soon after, the pictures of Aishwarya, Amitabh and others from the Bachchan family leaving Andheri's Seven Hill's hospital surfaced. Little Beti B was going home!
And Amitabh Bachchan welcomed his granddaughter home by dedicating a poem written by his father Harivansh Rai Bachchan to the little one: "She is home! And nothing could give us all greater joy and happiness .. There is so much to say and so much emotion, but I think excerpts from my Fathers poem, written at the time I was born, say enough!"
फुल्ल कमल ,
गोद नवल ,
मोद नवल ,
गेह में विनोद नवल |
नवल दृश्य ,
नवल दृष्टि ,
जीवन का नव भविष्य ,
जीवन की नवल सृष्टि |
And she was named!
But once Mommy and Beti were home, fans eagerly waited for the family to name the baby who was now being called Beti B. And the Bachchan family took four long months to give their darling baby a moniker. And during that time birdies came up loads of names starting with 'Aa', Aabhilasha being the most popular. But finally Papa Abhishek confirmed that his darling daughter is called Aaradhya.
"Aaradhya means 'one who is worthy of worship'. It was a name both Abhishek and I had always considered, but we threw it open to our extended family. You know, when you have a baby, time flies. I wasn't even aware that it had been four months. I never realised this as acutely as I did when I had Aaradhya—time is luxury. You can never have enough of it," Aishwarya recently revealed in an interview.
Aaradhya plays hide-and-seek with the shutterbugs at the airport!
Now that the Bachchan baby was happily named, we yearned to catch a glimpse of the tiny lady. And we got a chance when papa Abhishek Bachchan, who was shooting for Dhoom:3, started missing his biwi and beti. That was when dutiful wife Aishwarya decided to pay hubby with a visit, with Aaradhya safe in her arms. And while on the way to Chicago, when Ash was at Mumbai airport, our sneaky shutterbugs captured pictures of her with the little one. Birdies chirped that Ash tried hard to hide Beti B from the viewfinders.
"No, we are not hiding her (Aaradhya) from the world. She is a little baby now, a very delicate child. So when you see that she is being photographed, your protective nature takes over. You don't want a child to be disturbed by the flashlights. So your hands instinctively come closer to her face. I was simply trying to wrap my arm around her. We are not playing a game of hide-seek here," Aishwarya explained a few days later on Amitabh's birthday.
A sneak-peek at Aaradhya on Grandpa Bachchan's birthday!
The Bachchan family had been successful in keeping Beti B away from the prying eyes of the shutterbugs. But guess what, sneaky birdies armed with power-lenses DID manage to get us Aaradhya's pictures when she arrived on the sets of Kaun Banega Crorepati 6 during her Dadaji's birthday on October 11. Finally, we said!
Aaradhya officially makes an appearance on Mommy's birthday!
We all watched with bated breath as the Bachchan family finally decided to bring their tiny daughter into the limelight. And it was during Aishwarya Rai Bachchan's birthday on November 1 that Aaradhya made her first official – and emotional – appearance while Mommy was being honoured with a civilian award by the French government!
Aaradhya gets her polio drops!
Grandpa Amitabh Bachchan shared one of Aaradhya's first moments – this one included the bitter polio drops – on his microblogging site on November 8 by tweeting, "Two drops of the polio vaccine to Aaradhya… overseen by government officials. Just so it is put on record. To practice what I preach." He also added, "The little one does not get an injection…it is just literally two drops of the polio vaccine into their mouths. Went off well."
So there, those were the moments we shared with little Aaradhya over the past year. Which one is your favourite, BollywoodLifers? But while you sit and take your pick, hear this – Viaan Raj Kundra has just tweeted, "Happy Birthday #aaradhya wish you a fantastic year ahead. Lot's of presents, chocolate's, sweet's, ice cream xx Stay blessed and happy. VRK." Awwww! Little son of Shilpa Shetty and Raj Kundra has already wished Aaradhya Bachchan. Don't you want to send in your wishes too, readers?