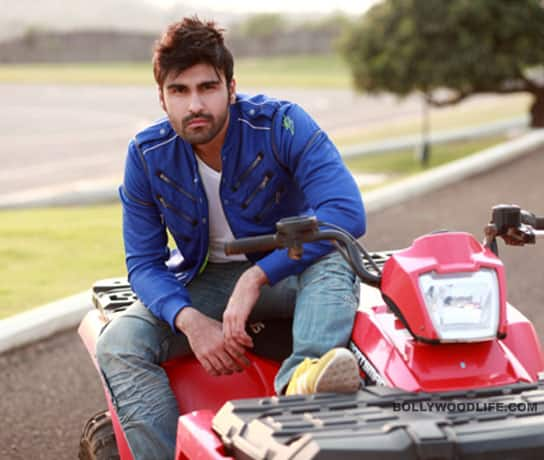 SRK's first director Raj Kanwar launched Raj Babbar's eldest son – Aarya – but his career did not take off as desired. Five years later he returned to films with Guru, and has been doing non-hero roles every since. He recently played a baddie in Anees Bazmee's Ready. And the young actor has accepted the transition…
The first time I met Aarya Babbar was at the music launch of Ready, the film in which he plays the bad guy. I overheard him laughingly reveal to a journo friend, "I get beaten up by Salman in the film." Nothing funny about that, I thought. And when we met, I realised that it was part of his zany sense of humor.
I remember you saying, 'I get beaten up by Salman in Ready'. What was that all about?
Yes, and that's why I have a very good role in the film. It's like this – whoever gets beaten up by Salman Khan, his luck changes. (laughs uncontrollably)
One hears that you have many more films apart from Ready…
Yes, I have Joker, Azaan, Choron ki Baraat, Kuch Log, (tentatively title) U-Turn with Nana Patekar and Rajeev Khandelwal, then there is Kabeer Kaushik's film with Naseeruddin Shah, and Mumbhai with Sanjay Kapoor and Om Puri.
That is good for someone who's first film (Ab ke Baras) bombed and who got rejected as an actor. Are happy with your career now?
I am very happy. I would not say that I have made a mark. I auditioned everywhere; I went from office to office, met everyone. And went through all that one undergoes in our industry – ridiculed, laughed at… I tried to build a physique and later realised it didn't work for me. I turned from fat to thin. For three or four years I had no work. I value my work. The thing is, I'm working today. That's something I always wanted.
You started out as a main lead, and now are playing other parts. The transition must have been a tough one…
Yes, in Guru especially. After that I became okay with it. But in Guru it took a lot to stand behind. I didn't have a vanity van. But I am glad I did that, because of which I am here. Aaj vanity van milti hain, na! It takes a lot, but it's an inner fight. As an actor one has to understand that if one door is not opening and another door is, my intelligence says don't keep banging that door that is not opening. Get into the door that is opening; maybe it's dark and you don't know where it is going, but it will go somewhere. Go with it. You never know what will happen. You have to take a chance. You can't keep waiting.
Also, when Prateik, with a small role, has become such a sought-after actor…
I will not talk about that. This topic is going a bit haywire with me lately. This is not a publicity stunt. He is my brother and I love him a lot, but there are a certain things that I don't like.
You have a mixed bag of films, mostly small banners. What about the biggies?
I don't want to do big banner. If they happen, or I happen to them, it's fantastic. But work is not gonna stop. I want to do all kinds of films. Be it small banner, mid level… every kind of film. I want to work. This also goes for me as an actor. I just don't want to play the hero. I just don't want to play a negative character or a comic character. I want to play different roles. My mission is not to become a hero. I want to be an actor and I am here to work.
Today most actors have a strategy in place. What's yours?
No strategy. Simply that if I pick up my diary six months from now, it should be chock-a-block for the next two years. I am busy till December and that's fantastic, I think. After Ready, I have lots of films.