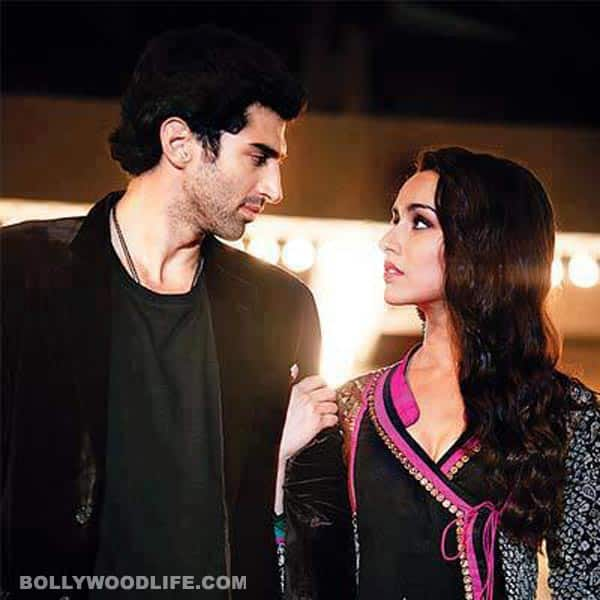 Aditya Roy Kapur and Shraddha Kapoor have their moments in the musical, but it is a lot of style and very little substance
Aashiqui 2 comes with a lot of expectations – to be a hit musical, a fresh love story and fare better than, or at least half as good as its illustrious predecessor. Unfortunately director Mohit Suri cannot deliver, and the sluggish pace of the movie kills the magic that could have taken place because the lead pair does seem capable of doing much more than just look pretty (which is what they end up doing).
Inspired in parts by the fifties Hollywood musical A Star Is Born, Aashiqui 2 revolves around the music scene in India. RJ (Aditya Roy Kapur) is a fading rockstar – a cross between Jim Morrison minus the leather pants and Janardhan from Rockstar minus the topi and the chutzpah. He prefers to stay drunk and brooding for no particular reason. He bashes up angry fans, chugs his booze right outta the bottle and gets into incidents of drunk driving. On one such night safari in Goa he almost runs over a smashing beauty (Shraddha Kapoor).  He follows her to a shady club where she works as a singer. He sees her, falls in love with her beauty and her voice, and vows to make her the next big thing. The story of how and when he does it is uninspiring and yawn inducing, but against all odds he does manage to make her a star.
But their almost perfect relationship is ruined by insecurity that exists among musicians, RJ's failure and his constant dash for the bottle. Still, since their love is true and all, which you just have to take at face value considering this is a love story, they manage to ride it, until RJ can't take it anymore and finally makes a choice that frees him and the audience both from the gruelling 152 plus minutes of the duo falling in love, singing, drinking and smashing things.
While the story is different than the previous one, those who have been fans of Aashiqui, will recognise the parallels in the story, and also what has been changed. RJ's father, who in the first movie left his wife and kids to marry again, is in this one an encouraging voice (Mahesh Bhatt's) on the phone that truly cares for his son. However, the low budget, edgy, home-video vibe to the first film which made it special, is missing from this one. For a change, despite it being a Vishesh Production budget-flick, has some good production values. It looks stylish and rich, but that doesn't take the film too far.
Shraddha and Aditya have convincingly played their parts, yet both of them cannot do it for the film. Individually they look amazing; she, like a porcelain princess and him like a rugged carefree rockstar. But together, there is little magic between them. Their characters are shallow, unconvincing and lazily written. And they aren't those seasoned performers whose superb acting can cover the film's many flaws.
While the music is good as an album, it just lengthens the film. Putting eleven songs in a movie make a musical not! So, watch it simply out of curiosity or to know what has been done to a cult movie in the name of a remake or sequel or both! However, if you aren't too curious, just watch the old one again. The one with the outrageous, nonsensical tagline – Love Makes Life Live!
Rating:
out of 5
Reviewed by Reza Noorani
* Poor
** Average
*** Good
**** Very good
***** Excellent