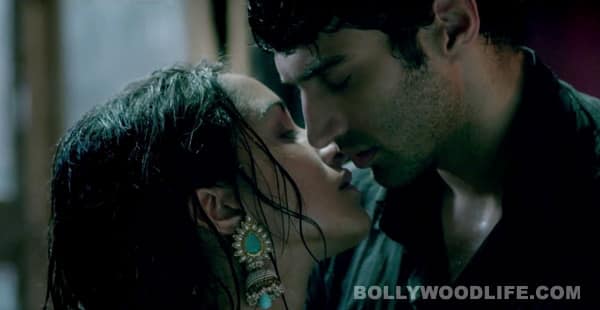 Mohit Suri's much awaited Aashiqui 2 promo is finally out and the film's lead pair look hot and sizzling
The trailer of Mohit Suri's Aashiqui 2 – starring Aditya Roy Kapur and Shraddha Kapoor – is out. And the track Tum hi ho, sung by Arijit Singh, looks like a delightful number. There are many intense moments in the song, clearly reminding us of the original Aashiqui (1990) starring Rahul Roy and Anu Agarwal, even though the Bhatt camp vehemently denies that the film is a remake.
Of course, the script might be different, but certain portions in the song are totally reminiscent of the '90s Mahesh Bhatt blockbuster. There's this one scene in which Aditya pulls his co-star Shraddha towards him and creates a romantic space around them by covering their heads with a blazer – now that's sure to take you back to the posters of the original Aashiqui in which Anu and Rahul seem to smitten with each other, coochie-cooing under a black coat.
Shraddha plays a celeb in the film, and as the paparazzi goes ballistic photographing her, Aditya leaves his lady love alone for a brief moment so that she can bask in all the attention. The film looks interesting and it takes us back to the '90s era when romance and real love used to be the key component of Bhatt's films (Dil Hai Ki Manta Nahi, Sadak et al), and not mere skin show. We feel, sparks are going to fly, cherubs are going to float around in the air and romance is going to overtake mindless hogwash – the moment A2 hits the theatre screens – 'coz this one definitely looks promising!