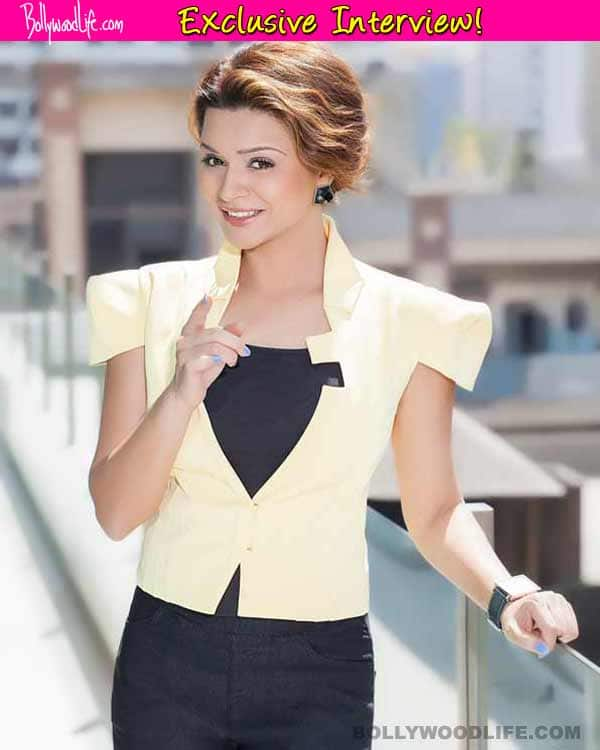 She's done daily soaps and reality shows all her life, but the actor claims that she now wants delve into something educational
Aashka Goradia talks to BollywoodLife about her new show, Get Rich with Aashka on CNBC Bajar – Gujarati business channel, how she was trained in the field of wealth management, how she got her finances in order, juggling with her show Maharana Pratap and her business venture. Read excerpts from the interview
What made you take up a show based on finance and investments?
I have been doing entertainment for a very long time. Lot of actors in their career get to do regional shows in entertainment, but I wanted to do something educational to change my outlook of things. Secondly, the whole concept of going to people's houses and doing their wealth management seems like an intelligent job. Thirdly, it's an honour to be with a channel like CNBC which has been leading in business network for the last ten years. I think it's a big opportunity for me to explore. They spent couple of months training me on it.
What exactly did you get trained for?
I was trained on the subject of personal finance. However, in the show we will have senior analysts coming and doing case studies in detail. We will be targeting small towns, connecting with people and discussing their finances. It is not a studio based show. We started with Ahmedabad, and will soon be going to Surat, Benaras, basically everywhere where there is huge Gujarati population. We will be coming to Mumbai as well, but being a metro city people manage their finances very differently from what someone who belongs to a small town does.
Now that you have a basic knowledge in wealth management – how have you applied it to your own life?
You wouldn't believe I was the first case study that the CNBC team took on. I told my team that it was the best case study they could find but I was so shocked to see the state of affairs. People who have salaries have a way to do savings, but self employed ones have irregular income and hence it becomes difficult to understand when and where to invest. The maximum we know is fixed deposits, savings account, LIC or we will invest in a share recommended by friends. But that's not the ideal way to go about it.
So is the show going to tell people where and which companies to invest in?
A layman may not know all the nitty gritties of investment and become easy targets for con artists. We won't be telling them where to invest, but how to invest, how to find the right company, what they need to do and look at, what is important to know and things like that.
So why are you doing this in Gujarati and not in Hindi? Wouldn't you reach a larger audience with Hindi?
I am doing this in Gujarati for two reasons – it's a very big step to dedicate an entire network to business. Considering I am a Gujarati and have a very wide base of audience in Gujarat and everywhere where Gujuratis reside, who know me – the network and the team thought it was best to come up with a Gujju channel CNBC Bajar. The network may later decide to take up a similar show in other languages. For the time being, I will get my business skills more polished. By the time we go national; I will be well versed with the subject completely.
Tell us five things a woman should invest or splurge on.
I think a woman should invest in gold, real estate, mutual funds, liquid bank account other than just a savings account and buy lots of lipstick to make you happy.
Money, Fame or Love – Rate in the order of priority.
Love, fame and money 'coz if you have one the other will follow.
Do you think everyone in the telly industry should get into a side business?
I think a lot of people from TV industry hail from different backgrounds. It's not just people, who always thought of acting, but people who've been doing other things are also getting into acting and are well educated. Especially people who I have worked with, take special care about investing their money or star businesses. I think actors now make sure about that. In fact, I would love to help all those actors who are not doing this as yet.
So have you started giving people advice on investments?
I have been helping a few of my friends and myself. If you want I can help you with your finances too.
How are you managing you time doing all this?
With Maharana Pratap being a historical show, the various storylines are all spread out. I am only shooting about 10-12 days in a month. Then I get a lot of time to spend in the office and learn something new every day. The amount of time I spend in office is also not enough – I need to do more. And I am looking forward to doing Get Rich with Aashka.