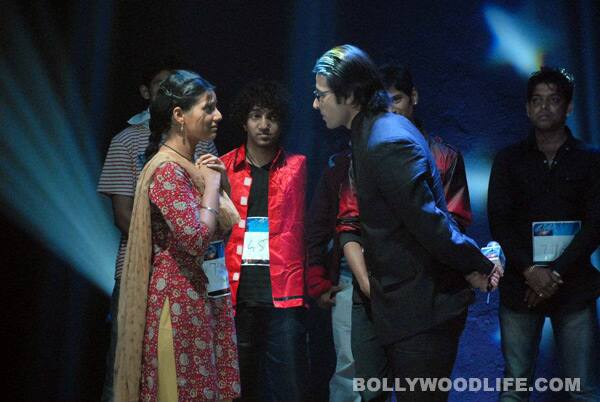 Life Ok's Aasmaan Se Aage deals with reality shows and the price one pays for fame
Aasmaan Se Aage highlights the life behind any reality TV show, its politics and the rat race for TRPs. The protagonist Meenakshi (Ojaswi Oberoi) hails from the slums, and aspires to make it big by winning a dance reality show. But little does she know that besides the difficulties in the show and its format, she'd have to go through emotional crises too.
The antagonist Karishma (Monica Khanna) wants to get rid of Meenakshi and she'll do almost anything to achieve that. After all, plotting and scheming comes very naturally to her. Angad (Aham Sharma) and Akshat (Siddhant Karnick) are brothers. While Angad is a lot more stable and mature, Akshat is juvenile, aggressive and impulsive. Allen (Kushal Punjabi) is the choreographer assigned to Meenakshi, and he harbours a secret love for her. Dev Chopra (Apurva Agnihotri) plays a grey character who has a soft corner for Meenakshi because of her innocence, but is also the reason behind her troubles.
Aasmaan Se Aage, like many other shows, has a Goody Two Shoes protagonist who is ready to bear all the atrocities, a negative character who loves being bitchy, and a loverboy who always first falls for the wrong girl and changes his colours almost overnight. But among all the typical things, what we found interesting was Apurva's grey character as DC. The actor was last seen in Star Plus' Bidaai in 2010. After two years, he has come back to do a very interesting role. Needless to say, he does complete justice to his character.
The show started in April, but Ojaswi has already had a makeover, an almost wardrobe malfunction, a MMS leak and a new lover. She's not the ugly duckling anymore, but is she any good? She neither invokes your curiosity nor pity. Siddhant and Aham share great chemistry as brothers. Monica flits between being good and bitchy with ease, but her over-the-top makeup is a big puzzle. The other actors in the show are primarily good dancers but you cannot say the same about their acting skills.
Other actors like Mouli Ganguly, Maninee De, Mihr Mishra, Rajesh Khera, Mansi Sandhya and Pulkit Sharma have small roles to play.
Aasmaan Se Aage feels very redundant and run of the mill despite having a novel idea. But with  fabulous dance performances and the concept of 'behind the scenes' of a reality show, it  brings a fresh genre to television. We've often seen it in Madhur Bhandarkar  movies, but bringing it to television seems like a breath of fresh air among all the saas-bahu serials.
The show began at a low phase, but has picked up in the two months since its launch. However, to keep the interest of viewers, Aasmaan… needs to be more innovative in terms of the protagonist, and do away with redundancy. The love angle seems hackneyed and at times very unreal. Some characters do nothing to elevate the standard of the show. Nevertheless, Aasmaan Se Aage looks stylish and for once the dance seems real, which adds to the X-factor of the show. It has the potential to be something good provided they don't get stereotypical.