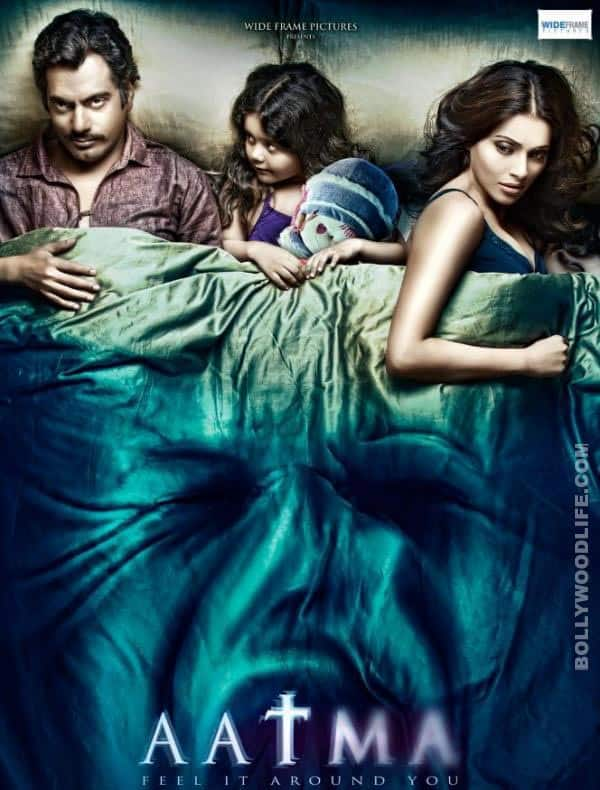 skip advertisement
In Suparn Verma's horror flick, Bipasha will not only share screen space with the Talaash actor for the first time, but also… a bed!
The first look poster of Aatma featuring Bipasha Basu and Nawazuddin Siddiqui is quite fascinating. It has both Nawazuddin and Bips lying on the bed like a couple and between them is a girl holding a soft toy. Bips looks a bit terrified while Nawaz has a smirk on his face. Wonder why he isn't scared. Is he the Aatma? If you look at the poster carefully, you can't miss the spooky face on the blanket, which instantly reminds you of the Hollywood flick The Mummy! No wonder the movie comes with a tagline – feel it around you.
Having directed films like Ek Khiladi Ek Haseena and Acid Factory, Suparn Verma is attempting a horror film, the title of which sounds like that of a typical B-grade film from the 90s. Basu returns to the horror genre again after the super success of Raaz 3, and after impressive performances in films like Gangs Of Wasseypur and Talaash, Nawazuddin is filmmakers' new favourite. Keeping this in mind, we hope the two actors who are as different as chalk and cheese, create superb chemistry on screen. Check out the first look of Aatma and tell us if you agree!