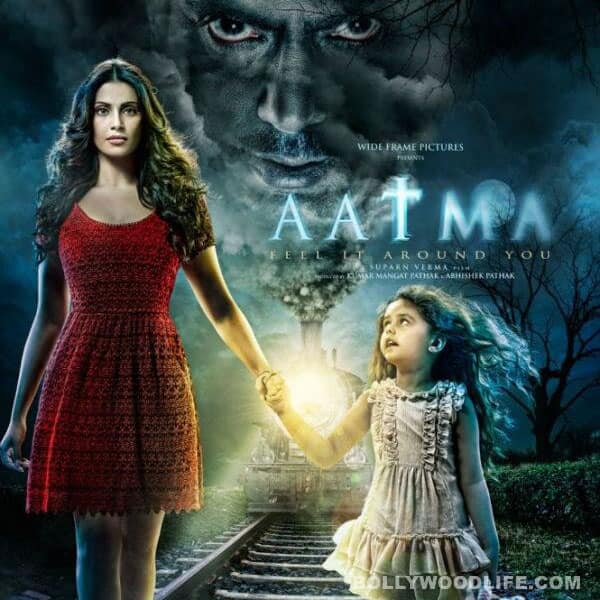 Suparn Verma could have done a better job with this unique concept that had the potential for novel ideas, but somewhere down the line, he fails to create the magic
Aatma – starring Nawazuddin Siddiqui (Abhay) and Bipasha Basu (Maya) – is not as bad as Vikram Bhatt or Ram Gopal Varma's masterpieces, but it's not as slick as Oren Peli's (of Paranormal Activity fame) interpretation either. Bipasha Basu's howling is the only thing that tears the curtains of our ear drums and Nawaz's character warns us of the many dangers of having an evil husband. Doyle Dhawan (Nia), who plays Nawaz and Bipasha's kid in the film, is a tad unconvincing. The fear, the excitement, the joy of connecting with your dead father – it's missing. She's flaunting tight curls and acting possessed, but that isn't enough to scare the daylights out of the audience. Suparn Varma could have paid some heed to the way he's directed the kid who's an integral part of the film.
So the story has been pretty clear from the promos so far. But the ending is unpredictable. Bipasha and Nawaz are a couple. Tired of Siddiqui's never ending torture, the two end up getting divorced. Unfortunately, Siddiqui passes away, but his soul refuses to leave the world. And an evil husband's ghost is like an embarrassing situation – it arrives out of nowhere and is not needed at all – not even for alimony. So this aam aadmi – looking like daddy – wants to take his daughter along with him – God knows where – as if he will get to play hide-and-seek with her in the parks of heaven. He is determined to snatch her from the clutches of Bips. Basu's mother is played by Shernaz Patel and she portrays this supportive mommy who feels a presence too, but doesn't experience anything till the end. The way Bips stops the sinister Nawaz from harming their daughter is quite a twist.
Some of the scenes are really well shot. Not run-of-the-mill at all – they simply prove that the makers have put in some thought before presenting the dish to people who have an appetite for horror films. In this one scene, Darshan Jariwala who plays a pandit, has this thin film of a flimsy sheet appearing magically on his face and asphyxiating him. The effects here are super and it's sure to send shivers down your spine. Also in another part, Bipasha's friend asks her to keep sharp objects under her pillow that might help keep nightmares at bay, and the very next moment you see those knives, cutters and saws hovering in the air – quite an enterprising ghost, eh!
Certain portions in the movie just don't stick to the clichéd horror story telling pattern and that's good. A couple of sequences defy ideas like ghosts are fabled to appear only during midnight and are supposed to look like super scary zombies.
Bips has stuck her nose to the grindstone. She plays the role of a daunted mother with amazing ease – managing her tiny tot, dealing with the demands of her work and shooing away her husband's ghost – she's doing it all at once. As they say, women are good at multitasking. The only thing we and especially our ears couldn't take is her loud crying.
Do we even need to say anything about Nawazuddin. Make him a thug and he will steal you hearts; make him an apparition and he will vanish like a column of smoke, leaving an imprint on everyone.
The concept is super – a small girl stuck between a dead father who claims to love her and a living mother who genuinely wants her betterment. The asphalt was laid out; unfortunately instead of smoothening it, Verma ends up creating only gravel.
Rating:
out of 5
Reviewed by Deboshree Ghosh
* Poor
** Average
*** Good
**** Very good
***** Excellent