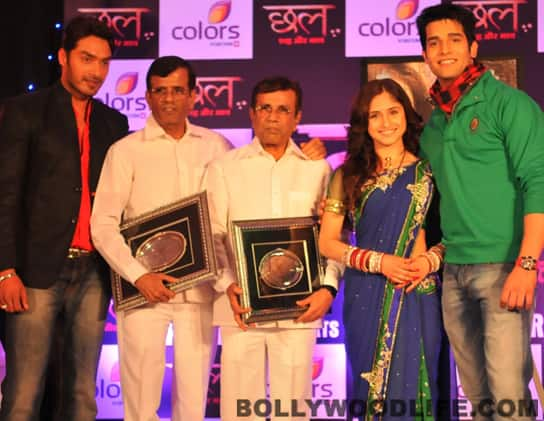 At the launch of the new television serial Chhal – Sheh Aur Maat, the directors behind Players were upbeat about the latest venture but insist this medium is not for them at the moment
It has almost become a norm, for B-town celebs to plug assorted events and help them get more eyeballs. Recently, Vidya Balan was seen promoting Gulzar's latest album, Tera Bayaan Ghalib. The latest in this list is director duo Abbas Mustan who are helping the makers of the new social thriller, Chhal – Sheh Aur Maat promote their show. After all the concept is right up their alley. The show revolves around a woman who loves her husband obsessively but he marries her only for her money. The consequences of their actions form the rest of the storyline. Sounds a lot like a certain Abbas-Mustan film, doesn't it? Abhishek Malik, Avinesh Rekhi and Hunar Halli play the lead roles, but at the launch of the show, all eyes were only on Abbas and Mustan Burmawala.
Expectedly, Abbas and Mustan, who are respected for their grasp over the thriller genre said, "Thrillers have the ability to stimulate a viewer's mood – create anticipation, build expectations, surprise, that too in a very short span of time. The genre attracts a huge audience for its style of storytelling and showcase of edgy content. Having worked on numerous thriller concepts, we believe this kind of content is engaging and entertaining. As much as we would like to, we're too busy with our film commitments to get into television."
When asked if they would be interested in adapting the serial into a film, the director-duo said that they would, if they find a proper script to adapt it for the big screen. They went tongue-tied when they were asked which leading lady of the big-screen would make an awesome small-screen goddess. The duo didn't want to take away the limelight from the show, its cast and the makers and made a silent exit soon after.
Do you want to watch a social thriller, that too on the small-screen? Tell us!
Chhal – Sheh Aur Maat premieres March 19 and will air on weekdays at 9pm on Colors
[jwplayer mediaid="86989″]