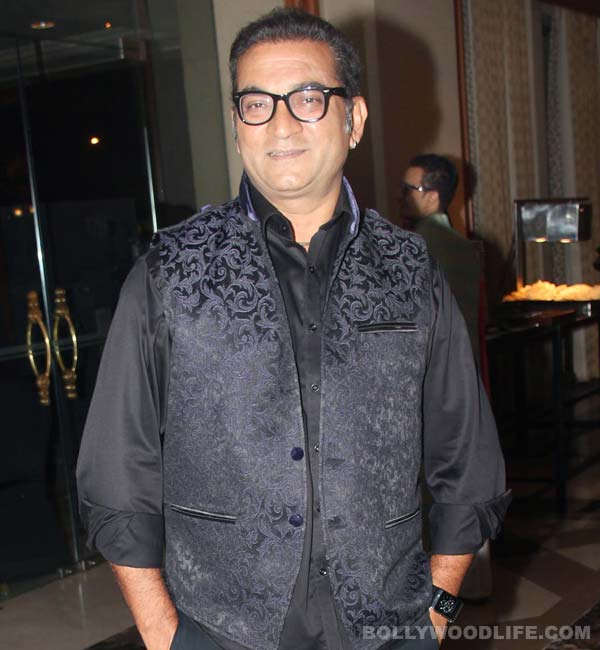 Singer Abhijeet is back to playback singing after five or six years. In an exclusive chat, he talks about his latest track, his upcoming projects and how singing as a profession has changed over the years…
Abhijeet Bhattacharya was last heard crooning Dhoom taana in Shahrukh Khan's Om Shanti Om. The singer has several hits to his name, but stayed away from playback singing for almost six years. He was once known as Shahrukh Khan's voice, heard to such good effect in Yes Boss, Baadshah, Phir Bhi Dil Hain Hindustani and Chalte Chalte, among other films. And now he's back, with Dil ka jo haal hain from Besharam starring Ranbir Kapoor. Despite being in the industry for over 20 years, Abhijeet's voice is still young and fresh. And after an engaging conversation with him, it's obvious that it's not just his voice but the person who is still young and fresh. Talking animatedly, the singer reveals his feelings towards actors turned singers, Sufi musicians and much more….
You were once known as the voice of Shahrukh Khan. And now you are singing for Ranbir Kapoor….
Don't say that I am someone's voice or I am singing for someone. I think everybody is acting and it's my voice. I don't want to be a ghost voice. I don't want to be called a playback singer. Myself, Abhijeet – I am a singer. Bad or good, I am a singer. People are using my voice obviously to sound better. I never put in my mind for whom I am singing. I can sing for Rishi Kapoor and Ranbir Kapoor with the same voice, for the same song. If you playback the same song for Rishi Kapoor, it will suit him too. My voice is such that I have full praise for it. But it's not mine; it's been given to me by God. There's something about it due to which I cannot say it's mine. It has been given by God, produced by my mother and is now called 'Abhijeet's voice'.
You've stayed away from playback singing for a long time…
It doesn't matter. For a singer of my stature, it doesn't matter if I stay away from film music. But I am not staying away from music. No radio station can survive without my songs. That is a challenge, because every new song just comes and goes. It stays for a week or for a month post its release. But there are songs that are played every day. Those are my songs. So I am not away from music. Music is not away from me. We are made for each other. I am doing full time work only in music. Whether I do concerts or my album or TV shows, it is completely 100 percent music, 24 hours a day. I am not singing in Bollywood; it's a loss that my voice isn't there now, but my songs are evergreen. I am thankful to the music directors who have given me evergreen songs. I am very proud of my singing. Not myself, but my singing. I am not good, but my singing is good. Besharam is the final outcome of other besharam music. Music has become so besharam that from the lyrics you can imagine the activities people indulge in. It is not the picturisation – whether they show it on screen or not, something cheap and vulgar is happening. I don't want to name the lyrics. I think Lalit Pandit, who are parallel to my Godfather and Godbrother, and Abhinav Kashyap must have realised that we must have a melodious musical number now. There's nothing like this available in the market. They thought, let's try a fresh voice and Lalit thought I was the fresh voice. So finally a fresh voice has come in. My career has started now.
There are speculations that this song is similar to one from Aamir Khan's Sarfarosh…
It is not Aamir Khan's Sarfarosh song – it's Lalit Pandit's song, Jatin-Lalit's song. People have to say something, so let them say it. That is their profession. If they don't say something, how will they survive?
You don't agree with them?
It's okay; it's their creation. All the songs sound the same to me. (starts humming) This is creative work. Maybe the director said that he wants this song again. That's very difficult – when producers ask for the same kind of song with a different touch to it, it's a difficult job. I think Lalit has done a wonderful job by creating a song like this. Full credit goes to him.
Why did you choose this song?
I am no one to choose this song. They approached me. I never go to any music director. I attend their parties or programmes, but not for work. I went to a music director asking for work before Baaghi, around 1991, not after that.
Playback singing is losing its charm, don't you think?
There is no more playback singing. Playback singing was when I sang for Shahrukh Khan. Chammak Challo is not playback singing. Lungi is not playback singing. It's just an item song. Earlier, girls did item numbers; now heroes do item songs. Whenever they need playback, they need Abhijeet, a nice melodious voice so that it sounds like the hero is singing. So obviously I am the one who should be given first preference!
Do you think live concerts and reality shows are why playback singing is losing its hold on the film industry?
People don't connect the song and the hero now. Whenever they hear a track, it's only a song. They hear it or they watch it till the film lasts, till the film is being promoted. After one or two weeks of the film, nobody remembers a song. The song goes to a DJ. In the past five or ten years, there hasn't been a song that has been etched in people's minds. There's no music director who belongs to RD Burman's class. The media creates hype and makes someone great. But no one listens to a one-year-old song. People still listen to RD Burman's 30-40 year old songs. People still hear my ten-year-old songs from Yes Boss, Chalte Chalte and Main Hoon Na. But no one listens to the recent songs by music directors who have won international awards. These are marketing techniques. I can't do marketing. I am a bhola bhala, seedha insaan. I sing from my heart.
If you had sung any of these songs, would they be better?
Music is of all kinds. Music can be cheap, vulgar or the street kind, bhajan, Sufi, shabad, kirtan, ghazal, soft singing, playback singing – and then there is bad sounding music, the way bhikaris (beggars) sing. That is in fashion now – the bhikari type of voice singing at high pitch and they call it 'Sufi music'! These fools don't know what Sufi music is. Sufi is an intellectual philosophy. It's not a song. There's no question of me singing such songs or songs with double meanings. Whatever nice songs are done, I feel like they purposely didn't let me sing them, making it clear that 'We can make any singer sing for us'. They don't realise that so many nice songs happened, but none are immortal. If I had sung them, the songs would have become immortal.
Which are your personal favourite songs?
There are so many. Khiladi, Baghi, Anjaam (Badi mushkil hain), Yes Boss, Dhadkan, Khoobsurat, Aankhein bhi hoti hain dil ki zubaan, Chalte Chalte, Main Hoon Na, Phir Bhi Dil Hain Hindustani, Asoka, Josh, Judwaa… all are evergreen songs. Then there is Gangster, Om Shanti Om….(He sings Lamha lamha from Gangster and then a line from Dil ka jo haal hain… His voice is so melodious that you don't want him to stop!)
Do you think it's easy to make a career in music now, compared to when you started?
It's not easy. It's tough for good singers, but very easy for bad singers. Because for the good singers they aren't making good songs any more. They have software, so they have uncles and cousins sing. Even if they can't sing, music se kuch lena dena nahi hain, restaurant mein hath pair hila ke gaate hain – they make them sing through software. The biggest example is how music directors are singing these days. Earlier, music directors would feel shy to sing in front of us. They would say, 'We can't sing it, but you sing it nicely.' Now they sing openly; they are indifferent even if they go besura (off tune), as they fix it all using software. It's tough for good singers.
How difficult was it for you to get into singing?
During my time, only the best singer would get the chance. From several millions, one would get the chance. Pancham da heard my voice. He gave me two years and then gave me a break. He made new singers sing, but he didn't give a break to anyone; I am the only one. We worked in very lavish conditions. Studio, unit, music directors – everyone sat together. I haven't come back desperately. There's no change. I have come back very normally. I hope that I will give a rest to the music directors who themselves are singing these days. I will advise them to take a rest and let me do their work. I can make their song 100 percent immortal. That's my job.
Do you have plans to launch your own album?
Yes. My album is almost ready. Beech mein, Besharam aa gaya. So I pushed the album back a little. Whatever support I get through this song, I will use it for my album.
What's the theme of your album?
Typical my type of songs – melodious, romantic, husky, soft.
From the newer lot, who do you think is a good singer?
One singer? Whenever I think that this is the singer, later on I realise that he's not the singer; someone else has sung the song. I get confused. Whenever I hear a song, I realise the singer is copying someone else, some discordant person. Kisika gala hilta hain toh dusra singer gala hila ke gaa raha hain. These people have considered each other their idols. They can't consider big singers as their idols – it's not something they can do. All the singers are singing alike these days. Even if they are singing well, they sound the same, or they sing from somewhere else so that people will recognise their voice. Three or four people sing through their noses. And others who sing normally, their voices are filtered through software. There are some good singers like Javed Ali. But if the music director changes his voice and delivers it, one feels bad, because originality is lost.
Which was that song? Why do… (hums the tune)…
Why this Kolaveri di?
Yes. Kahaan hain woh gaana? I feel like laughing. It's like you don't know what to do in life, so try singing also. If it succeeds, then good. It became dangerous for him. When a singer who doesn't deserve it sings a hit song, the next time he is zero. Bad! When bad people get a chance to sing, it's the most dangerous phase in their life, because after that they are nowhere.
A lot of actors are singing these days. What is your take on that?
They all cheat. They don't sing. Parallel to them, a singer sings. Anyone can sing these days using software. You come down to my studio, I can make you a singer. But I don't have that software or auto tuner in my studio. Nowadays it's not one singer who sings a song. There's an auto tuner running in the background. Good singers are in a very bad position nowadays. Music directors make 20 singers croon for one song and then keep the one they find suitable.
You've sung songs with a lot of female singers – Dil ka jo haal hain is with Shreya Ghoshal. Who is your favourite?
I can't answer this. Everyone will call and ask why didn't you praise me or mention my name! (Looks at the camera) You all sing very well. You're fantastic.
So if you get an offer to sing with an actor turned singer, would you accept?
Female? I will do everything with her. Not just a song. I will make music with her. But they won't sing with me, because they know that my voice will dominate. Their voice won't last alongside my voice. I am full of myself.
Many a times this comes out as arrogance…
I am not arrogant. I am very friendly. I can't praise myself, but I am a very nice human being. There are very few nice people in the film industry and I am one of them.