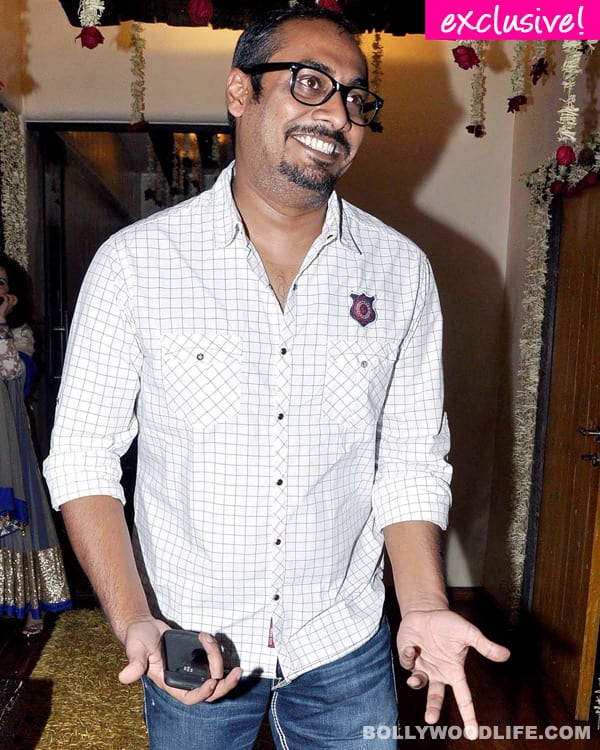 In an exclusive chat the Dabangg director discusses his much-anticipated quirky comedy Besharam, the 'biggest superstar' Ranbir Kapoor, Pallavi Sharda, why he feels brother Anurag is far more talented than him, approaching Salman Khan with the Dabangg 3 script, retirement plans (yes, you read that right!) and much more…
"I'll simply sleep for a month after Besharam's release," groans Abhinav Kashyap, who is super busy with the promotional activities of his Ranbir Kapoor-Pallavi Sharda starrer. Like his brother, the very opinionated Anurag Kashyap, Abhinav too has come a long way from struggling and sleeping on the street, to being included on the list of successful commercial filmmakers. AK is all set to showcase his next masaledaar entertainer Besharam three years after his debut film Dabangg. We caught up with the Besharam filmmaker to find out more about his latest work…
During Dabangg, you stated that you have lot of scripts ready. Then why did you take so long to make another movie?
Because I'm lazy!
Which film of Ranbir Kapoor made decide he was Besharam?
Rockstar! Ranbir is vulnerable. He doesn't take himself too seriously, which was proven with Barfi! Most Bollywood actors are image conscious, but Ranbir doesn't seem to have inhibitions as far as his role demands are concerned. His willingness to go to any length to get his character authentic, real and entertaining as possible is what I like about him.
You said Ranbir's India's biggest superstar…
Isn't he? He's 30. He's on the rise. He's up there competing with the biggest stars who are in their late 40s and some above 50. I believe he'll be at the top for a very long time.
Successful commercial stars won't take your comment lightly…
Let them say and feel whatever they want. I don't take them seriously. I say what I feel. I don't talk to the media much because at times they distort my opinions. I haven't said Ranbir is the biggest superstar to pull anyone else down.
How did you zero in on Pallavi Sharda?
Let me tell you that Pallavi is not my discovery. She has done Karan Johar's My Name Is Khan, Love Breakups Zindagi and Madhur Bhandarkar's Heroine. My casting director Rajeev Burnwal introduced me to her. We auditioned a lot of girls, but we found Pallavi to be wonderful. Maybe this was her biggest role and her first big opportunity.
You said you made a fun of yourself in Besharam…
I was being accused of making fun of Salman Khan in Besharam by using his character name Chulbul Pandey, but the name Chulbul has come from me. Since Dabangg is my creation, I'm allowed to make fun of myself. The tolerance level of people in our country has gone down. Jaise Billu ko barber bolo toh naaraz ho jaata hai.
You and your brother Anurag (Kashyap) had your fair share of struggle in Bollywood, but do you think Anurag got success quicker? Did you lag behind because you are lazy, as you said?
(Laughs) That's one of the reasons. Anurag is way more talented than me. I'm easy going, while he's a bit fanatical about movies. Anurag is much more cinema literate than me. He's been honoured by the French government for his role in promoting Indian cinema across the globe. We cater to different genres. I guess when Anurag decides to make masala films, I will think of making his kind of cinema. I'm not as intelligent as him, but that doesn't deny me my right to live! I'm not complaining, but jo hai, mere pass hai… I'm making the best of it. Jab tak main kaam seekh nahi leta, I'll keep working hard.
How long do you think you'll take?
Chaalis ka to ho gaya hoon! I want to make blockbusters and earn more fame and money so that I can retire after five or six years. Ghar parivaar secure ho jaaye… Baahar se aaye hue log hain hum!
Early retirement plans…
Don't you want to retire at 45? You'll be a lucky man!
You had a dabangg entry in Bollywood with your film becoming one of the highest grossers of all time. Will Besharam break the Chennai Express BO record?
Yes, there are expectations. Frankly speaking, I didn't set out to make a blockbuster when I started shooting Dabangg. It turned out to be that. Similarly, people might think that way about Besharam. But I want the audience to appreciate it and decide.
Anurag deleted his Twitter account recently…
No comments.
Were you worried that the fallout with Salman Khan and Arbaaz Khan during Dabangg 2 could've adversely affected your career?
I have never been worried about myself, as I know what I am capable of. There's no bad blood between Salman and me, at least not from my side. We are cordial to each other.
So will you approach Sallu if you write the Dabangg 3 script?
If I have something worth his time, I'd go ahead and approach him.
Besharam sees the use of Salman Khan and Shahrukh Khan's iconic movie characters and dialogues to add buzz to your production….
There's no mention of Salman Khan in the film; instead it's my homage to Sunny Deol!
What's next?
I'll sleep for a month! I'm not in a rush to make films. Agar karma hota, toh dus saal pehle kar leta… in the times of Imtiaz Ali, Anurag Kashyap and others, I'm more of a family person. Karunga… kuch achcha karunga!