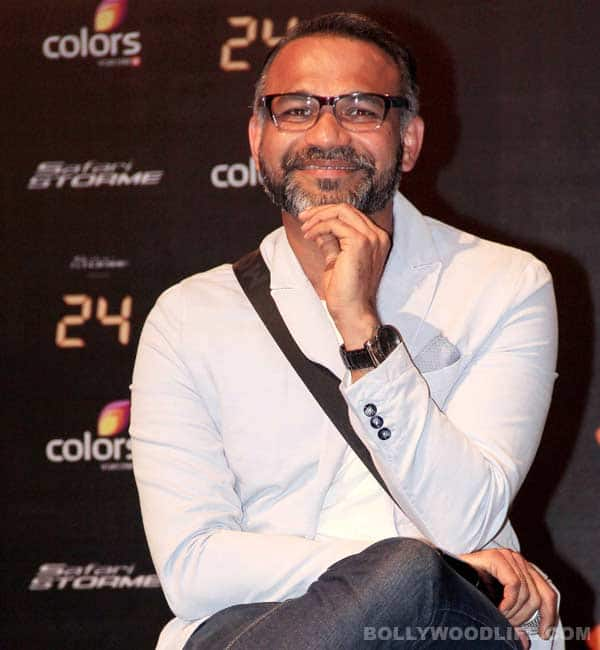 The ad man entered Bollywood to hone his passion for movies. He has tasted both the lows and highs of filmmaking with Game (flop) and Delhi Belly (hit) and now he is making a foray into television
The two films old Abhinay Deo is one of the directors working on 24, the Indian version of the international series starring Kiefer Sutherland. The man claims that he is very young in the entertainment industry. So to confirm, we asked him his age and he said after checking the grey in his hair,"By experience I am still in my 20s, but by age I am 40 years old."
24 is a fast paced, action packed show scheduled to air on Colors on October 4. The director, who is considered a hard taskmaster by his actors says that he likes the tag and insists that it's necessary to be that way to get things right. We agree!
How enriching is it to work on TV?
It is one of the most enriching and learning experiences from my point of view, 'coz it's like shooting several feature films together. This is the first time this is happening on TV. It is different and a very new concept. And if you have such an outstanding cast and crew working with you, there is nothing more you need. They are so rich in what they give you that we end up have a great time together. I am having a great time as the director.
Will you be directing Season 2 of the show as well?
I am still shooting Season 1. We have just finished shooting 15-16 episodes and about eight more are left. If there is another season – which I am sure there will be – I'd love to direct it, but that is up to the channel and the audience. If everything goes according to plan and the audience loves it, there will be another season. I'd love to brag and say that it's the kind of action that has never been attempted on television.
Are the women doing hardcore action too?
Yes, both Mandira Bedi and Tisca Chopra are trying their hand at action. I wouldn't call it 'hardcore' though, but it's a start.
How similar or different is the Indian 24 to the international series?
The backbone of 24 is the original series, but the face, body, heart and soul is completely Indian and very new. We've kept the basic story similar, but changed the context to suit Indian mentalities.
Has anyone from the international team seen it and commented yet?
No one from the international series has seen our 24 yet. I believe  Anil Kapoor will be flying to the US to show it to them very soon.
What kind of reviews are you expecting for 24?
I really want the audience to enjoy and feel the experience that we had while making it. The people in our country are intelligent and completely ready for something as interesting, fast moving, racy and crazy as 24. I think the review would be very good.
Airing at prime time – don't you think the show has huge competition already?
I think each one has its own space. The prime time shows that are doing very well should continue to do so; I hope the best for them. India is such a diverse country that there is space for everybody. There is space for them and for us and we should continue to live happily ever after.
How was your first day of shooting?
It was a freaky day. We shot a lot on the first day. My first shot was with Anil; it was not a long or elaborate scene, but the feeling of doing something so magnanimous gave us a kick. We had adrenaline pumping in our veins. We were so excited!
Tell us about working with Anil Kapoor…
Everybody has said so much about him that there is nothing left to tell. But one thing I believe is that Anil is is incredibly emotional. At one point, when I was narrating a scene to him, explaining how I want it, the man started crying at the end of the conversation. I made Anil Kapoor cry. He said, 'I got goosebumps when you were explaining the scene to me'. He is a very emotional person, very deep rooted, a son of the soil kind of human being.
Your most memorable moment on the sets…
It's not a nice one. I lost a crew member while shooting 24. He did not die on the sets, but he was a very good technician and an amazing human being. Karan was the first assistant to my cameraman, but he is no more now. After the shoot, he was heading home when he met with an accident. The incident will stay with me forever, 'coz it happened while 24 was being shot. May God bless his soul! I am sorry, but this is important, 'coz it was one of the most touching experiences for me.
What kind of trouble did you face while shooting?
Oh my… there are too many to count! It's a tough series, after all. We are shooting continuously with multiple cameras, with a star cast that is usually very busy otherwise. In addition to that, we have been shooting in various locations all over Bombay. From Dockyard Road to Sewri to Worli village – it has been crazy. Those are the hiccups mainly, trying to shoot without people looking straight into the camera.