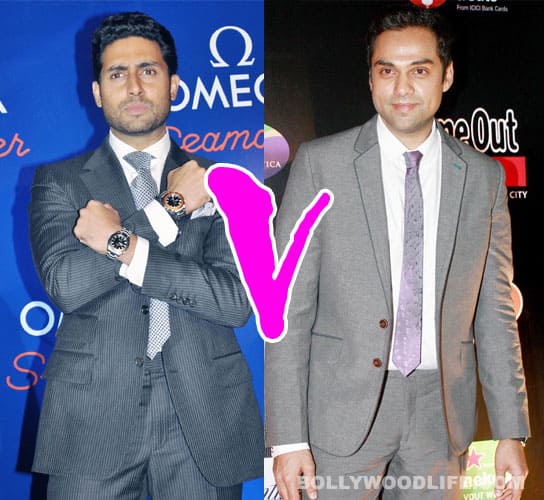 The Players actor is replaced in Prakash Jha's forthcoming film, Chakravyuh
Abhishek Bachchan is going through a very lean phase in his career. His last film Players came as a rude shock to him, his producers and the audience, as everyone in the industry thought it would work wonders at the BO. Abhay Deol, on the other hand, has been emerging as an actor who is not only the face of indie films like Dev.D and Manorama Six Feet Under, but can also pull off mainstream roles like in Zindagi Na Milegi Dobara. So we were not hugely surprised when we heard that Jr B was being replaced by Jr Deol in Prakash Jha's next multi-starrer, Chakravyuh.
Birthday boy Abhay says that this film happened overnight, which we find hard to believe. The makers of Chakravyuh are saying that Abhishek Bachchan was never considered for the role, but according to www.imdb.com, Jr B along with Arjun Rampal and Deepika Padukone had been cast in the film. The status quo has changed now and Abhay Deol will be sharing screen space with Manoj Bajpai and Arjun Rampal. The leading lady hasn't been cast yet.
Wethinks it is good that Abhishek isn't doing the film; he will get to spend some quality time with Beti B… or is it Aaradhya? As much as we like the name of the little one, we are still waiting for an official confirmation from the Bachchans! Until then, we wait to see more of Abhishek in the films reportedly being made by Ekta Kapoor and Goldie Behl – or are those just stories in the wind, too?
ALSO READ: Happy birthday, Abhay Deol
Abhishek Bachchan gifts baby Aaradhya an Audi!