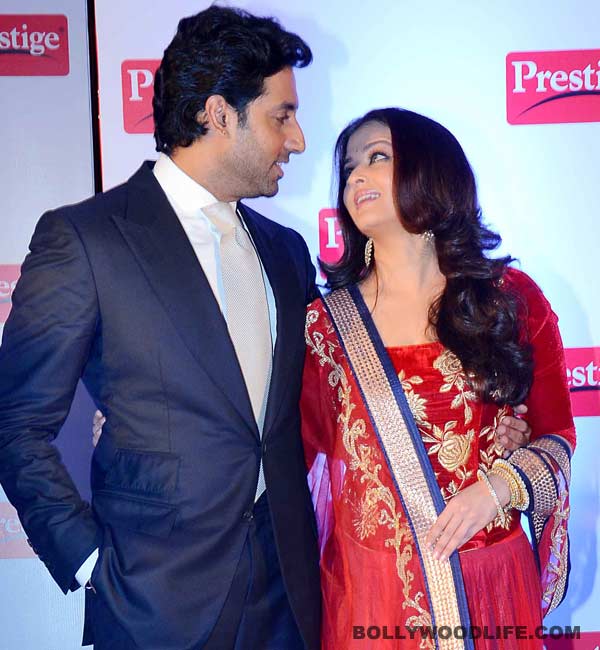 One of the most popular couples from B-town celebrated their anniversary yesterday
Abhishek Bachchan and Aishwarya Rai (now Bachchan) tied the knot on April 20, 2007 in a private ceremony which was held at the Bachchan's Juhu home Prateeksha. Abhi and Ash have made it to the headlines time and again since marriage. While we'd like to congratulate the star couple on completing seven years of togetherness, let's take a look at seven highlights of Abhishek-Aishwarya's seven year old marriage.
A few months before Abhishek and Aishwarya were to tie the knot, Dhoom:2 hit the theatres. Back then, there were reports that the Bachchans weren't aware of Ash's kissing scene with Hrithik Roshan in the film and they were quite disappointed with their soon-to-be-bahu.
Though Abhishek and Aishwarya met while shooting for Dhai Akshar Prem Ke, the duo grew close to each other only while filming Umrao Jaan.
Just when Abhishek and Aishwarya were going to get hitched, the country was abuzz with reports that Aishwarya first tied the knot to a tree before getting married to Abhishek as she was a manglik. Of course, the Bachchan family invited a lot of criticism for this and finally Amitabh Bachchan cleared the air of all controversies… err rumours. He told that Aishwarya never married a tree and the only person she's married to is his son.
Amitabh Bachchan had taken to Twitter to inform the world that he was going to be a grandfather, when Aishwarya was pregnant. And Ash was in the news for the longest for her pregnancy. In fact, there were reports that her child was set to arrive on 11-11-11. But of course, Beti B as Aishwarya's baby was fondly called before being named Aaradhya was born on November 16, 2011.
Post pregnancy, Aishwarya Rai Bachchan put on weight. And her weight gain issue was a matter as important as national emergency. And the lovely Bachchan bahu has been bashed by fashion critics over and over again for gaining weight post-pregnancy. Of course, Abhishek and Aishwarya have barely ever reacted to this matter…
Not so long time ago, the Bachchans were all under the limelight as there were reports that Aishwarya and her mother-in-law Jaya Bachchan weren't getting along. And that Ash wanted to move out of the Bachchan home and live separately with her hubby Abhishek and their lil one Aaradhya. However, the family has denied such reports. Though of course, during public appearances it has been noted that Aishwarya avoided Jaya on more than one occasion.
One of the most talked about topic is how Aishwarya Rai Bachchan gave up her film career post marriage, precisely post-pregnancy. Though Ash has maintained that she will be making a comeback, we've heard very little about any of her upcoming projects.
Well, we hope Aishwarya and Abhishek have a love-filled marriage and they steer free of any controversies in the coming year…