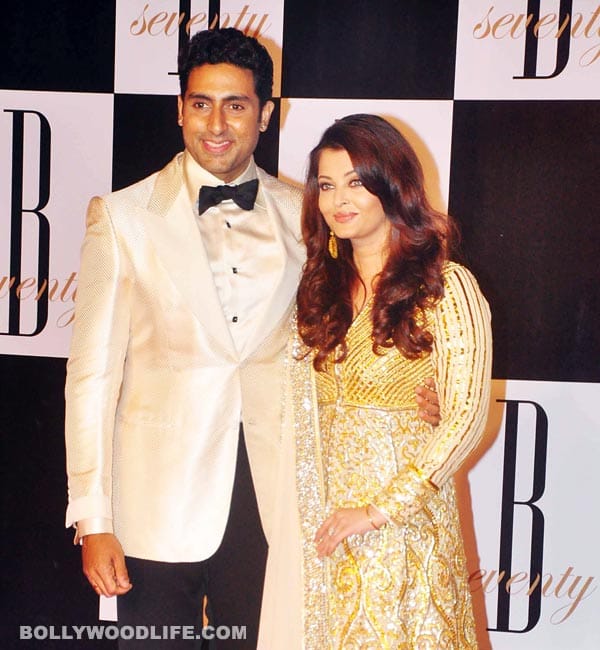 AB Junior beat superstars Shahrukh Khan, Akshay Kumar and Hrithik Roshan to bag the most coveted role. Yes, you read it right! Also, Ash will take on her hubby dearest in the James Bond thriller
Our khabroo has just blessed us with what we can proudly proclaim as the 'story of the year' and we'll be indebted to him for that! After all, it's not every day that you can rely on your source to get you such big exclusive news, right peeps? The hottest gossip we hear is that co-producer, Barbara Broccoli and director, Sam Mendes of the last James Bond movie, Skyfall were in Mumbai recently to meet our starry Indian couple – Abhishek Bachchan and Aishwarya Rai Bachchan at their residence Prateeksha to discuss the next Bond film. Yay!!! And guess what, the super concerned Sr Bachchan was also present at the meeting to guide his beta and bahu.
After brainstorming on the script for a couple of hours, the Shahenshah of Bollywood strongly felt that there's no reason why his beta and bahu shouldn't sign on the dotted line, although Ash was slightly petrified of playing a grey character post marriage and having done a similar role before in Dhoom 2. The untitled project that will go on floors mid next year will be shot in locations not really explored before in a James Bond film – Yugoslavia, Bahamas, Royal Navy submarine pens (Scotland), Monte Carlo and certain portions will also be shot inside the Bachchan bungalow, as requested by them…pure nostalgia, what say!
From Sean Connery to Roger Moore, and Pierce Brosnan to Daniel Craig…and now, our very own Abhishek Bachchan will soon showcase his youthful charm and maturity as the new secret agent – 007! But do you think AB can pull off a James Bond? And will Ash be able to justify her screen presence opposite her hubby in this thriller? Tell us what you think…