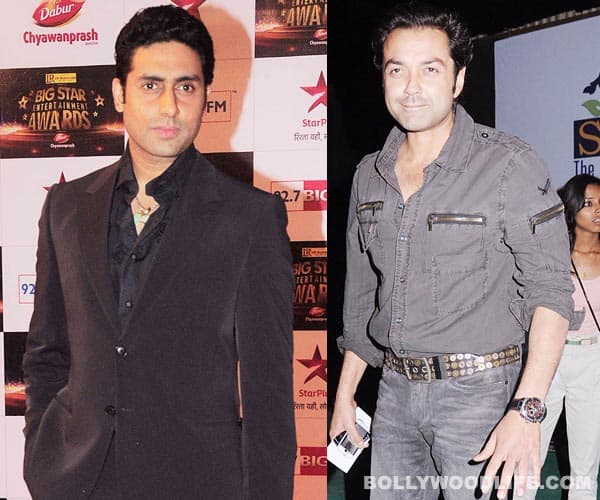 Producer-director Kunal Kohli wishes to cast Abhishek and Bobby in the remake of the 1980 hit film
For the past few years, Bollywood has been serving old wine in new bottles, with several filmmakers trying to cash in on the successful 'shortcut' formula of 'remakes', instead of coming up with new and original stories. The latest to join the bandwagon is producer Kunal Kohli, who has managed to convince Abhishek Bachchan to reprise the role of Vijay, played his superstar dad Amitabh Bachchan, in the yesteryear comic caper Do Aur Do Paanch. Joining him will be Bobby Deol who'll play Shashi Kapoor's character named Sunil. The film will be directed by newcomer Akshaye Puri.
The ecstatic producer who's looking forward to make a formal announcement said that appropriate changes would be made in the script. The original movie also starred Hema Malini and Parveen Babi who played Big B and Shashi Kapoor's love interests respectively. The female actors in the remake have not been finalised yet.
The yesteryear classic reestablished Amitabh-Shashi's powerful combo at the box office. The film had the two actors play petty thieves who didn't get along with each other and are employed to abduct the son of a rich businessman. However, they fall in love with Hema and Parveen who change them into becoming good men. We wonder whether the Abhishek-Bobby chemistry will be able to create a new benchmark with the new and reformed Do Aur Do Paanch remake. Also, what could be the movie's title – Do Aur Do Paanch 2?