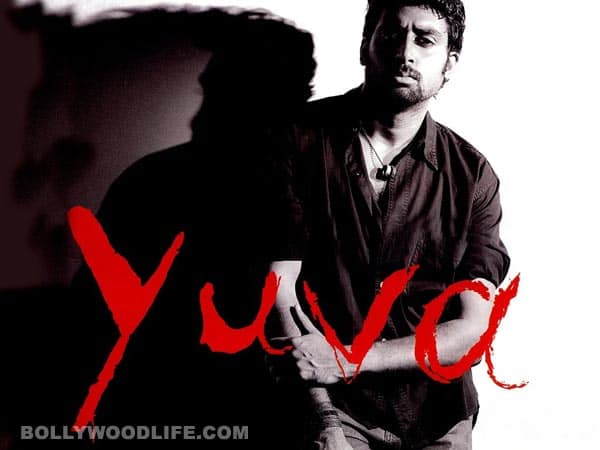 skip advertisement
Aaradhya Bachchan's daddy turns 37 years old today. And we have the perfect pearl of wisdom waiting for this birthday boy!
Abhishek Bachchan was born on February 5, 1976 to legendary actors Jaya and Amitabh Bachchan. AB Jr debuted in Bollywood with Refugee in 2000. Post that he went on to do many forgetful movies like Dhaai Akshar Prem Ke (2000), Tera Jadoo Chal Gaya (2000), Bas Itna Sa Khwaab Hai (2001), Om Jai Jagdish (2002), Desh (2002)….sigh…the list is pretty long.
But there have also been movies like Yuva (2004), Guru (2007), Paa (2009), Dostana (2008) and Sarkar (2005) among others, that have earned this Bachchan prodigy critical acclaim. So yeah, we know that our darling Abhishek can act, and that too, very well. So why then – and we are actually puzzled at this one – does this actor have such a long list of duds?
First: wethinks the movies rather the scripts of the BO failures are to be blamed. Second: perhaps the makers of certain movies didn't push AB hard enough to make him deliver his best on the big screen.
And we say this only after tracing a finger through the films that can boast of Abhishek's spell-bounding acting prowess. Take the case of Yuva, where Bachchan Jr was directed by Mani Ratnam, or Sarkar, where Ram Gopal Verma managed to get a top-notch performance from the actor. Abhishek also took our breath away in Dostana, where he was pushed to perform excellently by Karan Johar.
So perhaps Abhishek should be a tad smarter about the kinds of roles and films he chooses. And should stick with filmmakers who can push him to give his best shot.
And here are all the movies that we fondly remember, just to celebrate Abhishek Bachchan's birthday. Take a look at these and tell us if you agree with us, readers!
So don't forget to send in your birthday wishes to adorable Abhishek, who we know will be busy frolicking with baby Aaradhya and wifey Aishwarya Rai Bachchan today. Right, AB?