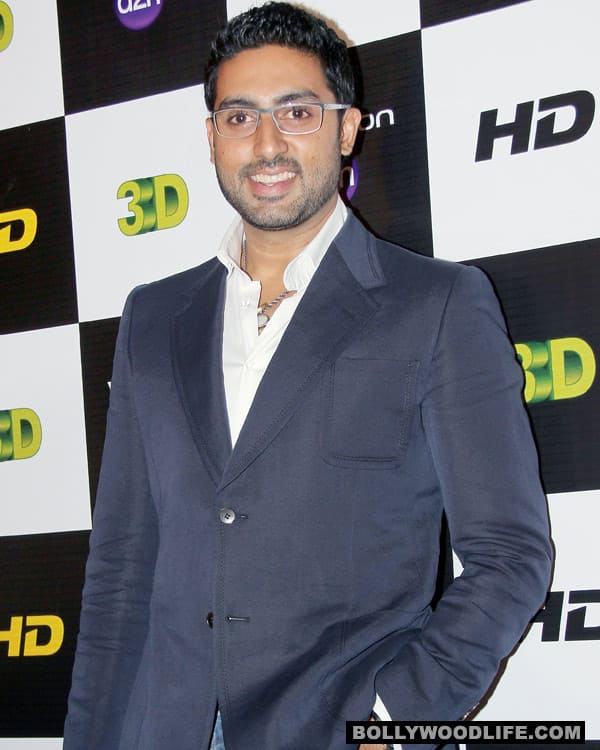 For the first time, the happy papa has mentioned his baby's name…or has he?
His filmi career may not have given him many accolades, but Abhishek Bachchan still has his sense of humour in place. The new papa made a couple of interesting statements to a national tabloid that left us guffawing.
Abhishek revealed that wife Aishwarya Rai Bachchan is so engrossed in caring for their baby that she hardly pays any attention to him. Beti B aka Aaradhya cries at night and disturbs his sleep, but instead of taking her to a different room, Ash sends hubby dear out instead! Abhi feels like he is in the queue just to get her attention. Aww… so cute!
We loved those intimate revelations, but what we loved even more was the quiet way in which Abhi confirmed that his daughter's name is really Aaradhya. You may recall that when the Bachchans didn't name the newborn immediately after birth, speculation had run rampant about what they would call her. We expected that they would hold a press conference to announce the name, but they chose to remain quiet about it. When the same tabloid reported they had finalised the name Aaradhya, they neither confirmed nor denied it.
Until today. Abhi has been quoted saying the name not once, but three times! Our cynical heads didn't take long to rear and we did wonder, did he actually say it? Or did the writer take artistic liberty due to newsprint space constraints and just insert the name there? We do hope he did say his baby's name out loud. We like this name, unique as it is. It would be a darn shame to replace it with something else, don't you think?