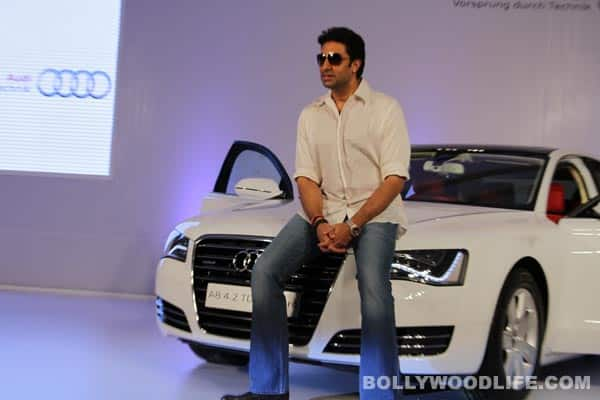 Bachchan junior celebrates the success of Bol Bachchan by becoming the first proud owner of the one-of-its kind car in India
She's classy, sexy and enchantingly irresistible. And only Abhishek Bachchan has her. No, we are not talking about former Miss World Aishwarya Rai. And yes, we are talking about the brand new Audi A8L 4.2 TDI Quattro. The swanky fuel efficient diesel beauty, a one-of-its-kind car, that now belongs to Abhishek. And guess what? The Bol Bachchan actor bought this one from his own hard-earned money – we approve!
In fact, the fully automated, beautifully customised four-wheeler took a year to be created to specifications. And AB's baby could not have timed the arrival of this car any better. Bachchan junior is happy about the response his film Bol Bachchan received at the box office. The film netted Rs 100 crore and Abhishek decided to celebrate by gifting himself this car.
Though Abhishek is excited about driving his new vehicle on the roads of Mumbai, he won't be able to do so any time soon, coz he will be leaving the city tonight to attend the London Olympics. From there, Abhi will be flying to the USA to shoot for Dhoom 3. But until Abhishek returns from the States, we are sure Grandpa Amitabh Bachchan will drive Beti B Aaradhya around in her dad's new car. That will be a cool idea, Sirji!