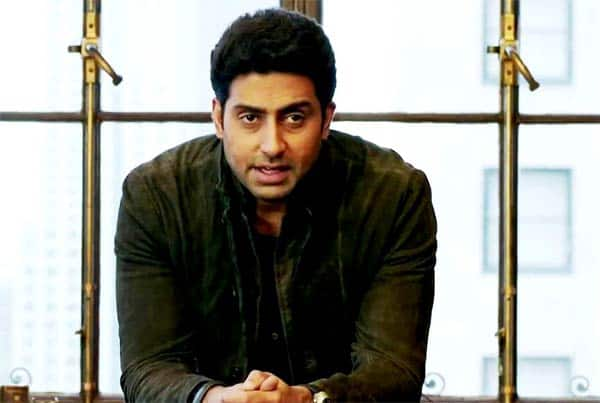 Dhoom-time is back! Dhoom:3 has hit the theatres and it's garnering positive reviews. Abhishek Bachchan and Uday Chopra are back too, playing their cop roles, this time with Aamir Khan as the baddie. We recently chatted with super cop Jai Dixit, aka Bachchan Jr. Read on to know what he had to say….
Dhoom:3 has finally released and it's certainly gonna be a dhoom-filled day for Aamir Khan, Abhishek Bachchan, Uday Chopra and Katrina Kaif. Abhishek and Uday have once again stepped into the shoes of cops, Aamir is the baddie and Kat provides the glamour – the formula we all know well. But what's different about Dhoom:3? Recently we got chatty with Abhishek, who spoke to us about the film, his work, his wife Aishwarya Rai Bachchan's comeback and much more. The actor has a very pleasant persona; he is humble, but loaded with a great sense of humour. Abhi is tall and handsome – which can be distracting when you are interviewing him. Wink, wink! But he has a lot to say and is fun to listen to…
What are the benefits you got from Dhoom and Dhoom:2?
It's Dhoom:3 and I am still here. That's the benefit.
You have an auto stunt in the film – first bikes and now autos …
It is one of the auto sequences in which I am riding an autorickshaw. It was fun. I have ridden an autorickshaw before. It's different from riding a superbike, but it's great fun.
How has your character evolved from Dhoom to Dhoom:3?
The great thing about Jay Dixit is that in three movies and ten years he hasn't evolved a bit. He is just the same. I call Jay Dixit comfort food. You know, on a rainy day you don't wanna go to work, you wanna sit at home, watch TV, take out your fave ice cream or popcorn… that's Jay Dixit. After seven years, it's the same thing. It's nice for a change, not to do something different.
How would you define 'Dhoom'?
Dhoom for me is a very emotional thing. Dhoom was my first success. It was during Dhoom that I made some wonderful friends. It's always been a fun experience to make the film, even part one, which was a very small film. Uday and I were talking about it, that when we started Dhoom nobody thought that it would grow into this monster that it is today. At that point, we were just trying something new. I remember Adi (Aditya Chopra) saying 'I want to redefine the action genre. Let's make it cool, let's try something young, add bikes. People like bikes, good songs.' Nobody knew it's gonna have a sequel. Nobody knew it's going to have a third part, that it's going to become this huge monster of a franchise. It's just been a film that was a lot of fun to do.
I remember when Dhoom:3 was about to be made and Uday (Uday Chopra) called me and asked, 'Adi spoke to you?'. I said, 'Yeah, Adi spoke to me, Aamir spoke to me before that.' Then he asked, 'Are you doing it?". I asked, 'Are you doing it?'. He said, 'I will do it if you do it'. And I said, 'I will do it if you do it.' Then he said, 'Okay, let's do it.' And that's just the way it's been. Dhoom is just fun. For Uday and I, we could do Jay and Ali with our eyes shut and sleeping. We know the characters so well. It's always been a lot of fun.
In your family and friends circle, who creates the most amount of Dhoom?
Main hi sabse zyaada dhoom machata hoon. (I make the maximum amount of Dhoom)
Uday has said that he won't be acting any more after this film. But if there's a Dhoom:4…
I will get him to do it. Uday stopped acting a long time ago, actually. In 2010 he took the decision to move to LA and become a producer. He has only come back for Dhoom, 'coz Ali is very close to his heart. And like I said, it's fun. It's important to do films that are fun. Everybody spends too much time plotting, planning what to do. Few of them do things for fun.
Is there any lady love?
There is no lady love, finally. (Last time she was pregnant) This time, she's non-existent! It's very sad.
So you don't have a song, you don't have a lady?
Nothing. It's very sad. The stunts were fun, though.
Next film, are you expecting to be promoted?
See, if he goes above ACP, then he gets a desk job. That'll become kind of boring, no?
Dhoom:3 took a long in the making, almost no show for over a year – did that make you edgy?
No. You're making a film. Dhoom kept getting delayed; it kept taking a lot of time. But you know the films you are doing. I have Dhoom, Happy New Year, All is Well coming up, so it doesn't make me edgy. As long as you are working, it's fine.
We were expecting a lot of you during the promotions, as you've been off the big screen for over a year….
I think you are asking the wrong person that. You should ask the people who decide the marketing strategies, which evidently isn't me. Whenever the production asks me to come up, I come. It's my film. Obviously I am going to stand by it. If they feel that there are certain events they don't want me around for, what can I do about it! That's it. Do I feel bad? No. I don't give attention to these films. Dhoom is my film. I am the hero of Dhoom, nobody can take that away from me.
You can be the biggest star or the smallest star, Dhoom is Jai and Ali. If Jai and Ali are not in Dhoom, it won't be Dhoom. I know that. The audience knows that. I really believe that these things only matter to a few people who are part of the industry – as you are. Be it the media, the distributors – it's just a thousand people that talk about all of this. I was having this discussion earlier in the afternoon. People talk about collections. Which is your favorite film of all times?
Sharaabi
What are the collections of Sharaabi?
I don't remember…
Nobody remembers. They are only bothered with if the film is good or bad. The audience doesn't care. Today we in the industry – 'coz we need something to talk about and we need to discuss and analyse – we come up with a Rs 100 crore club and Rs 200 crore club. I am still looking for where this club is. I have not found this club. The biggest, highest day – the audience doesn't care. It's just the industry that cares about this. It's our way of categorising a film. The audience only bothers about one thing – is the film good, or is the film not good.
For me, cinema is an emotional thing. Do you connect emotionally with a film or no. And by emotions, it doesn't mean you have to cry. It means you walk in, you connect, you enjoy and you come out feeling, it was a wonderful film and I don't mind watching it again, or it's a very bad film, I didn't enjoy it at all. That's it. It's a bit of contradiction, but at some level I really don't think these promotions help. When I go to a theatre, I love watching trailers. That is when the audiences decide whether they want to see the film or no. After it, it's just adding cream on the cake. When was the last time you read a review of a film and went to see it, or didn't see it? You've already made up your mind before whether you want to see the film or not.
Aamir has been saying less is more. Do you agree?
I think it matters from case to case. In a film like Dhoom – and this is with all due respect to everyone who has been associated with it – it doesn't need any star. It doesn't need Aamir. It doesn't need me. Today Dhoom thankfully has become a franchise in itself; you could have newcomers in it and still have a good opening 'coz it's Dhoom. In the case of a Dhoom, you don't need to go out there and actively promote the film. Because a lot of promotion has been done by the brand of the film already. I agree with Aamir in this case, that you don't need to go out there everywhere.
In terms of the personalities of their characters and what they bring to the Dhoom franchise, how do you compare your three antagonists, John Abraham, Hrithik Roshan and Aamir Khan?
For me, the three Dhooms have been three different films. Dhoom had started off as Adi said, let's try something new. Nobody had any clue. We were just three young guys trying to make it in the industry. Tukka lag gaya, literally. Dhoom was a classic cops and robbers caper film. The good vs bad plot was almost like arithmetic. When that became successful, we decided to amplify it, make it bigger and better. We got a bigger star cast. So from Goa we went to Rio De Janeiro. In that, we introduced the element of emotion, which was not there in part 1. Dhoom was almost borderline frivolous and very unabashed in a screenplay format. It wasn't serious. There's a robbery, a thief who can't be caught and then a supercop is called in and later there is a chor-police chase. End of story.
In Dhoom:2 we thought, how do we make it bigger. Let's introduce an element of romance. So we introduced Sunehri's character. For Dhoom:3 we felt that if we are going to do the same thing again, the audience would say, don't; give us something more. This Dhoom is the most non-Dhoom film that we've made, of the three. It's a bit darker, it's a bit edgier. And this time, we have given the villain a great emotional reason for doing what he is doing.
The first two times you were taking on contemporaries. This time we've got you taking on a senior. Was it a bigger challenge?
No. For Jai Dixit, sab equal hain. You are bad, I am going to catch you.
Do you feel sidelined as the focus is on Aamir?
Why should I feel sidelined? I am in the film. Like I said, you can't take me out of the film. The audience doesn't care whose film is it. Till date, the greatest multistarrer was Amar Akbar Anthony. Nobody comments on whose film it was.
Do you miss John and Hrithik?
Hrithik came on one of the first days of the shoot to meet everybody. We miss them. We had had a great time making the films. And we keep hatching plans of getting them back together to catch the bad guys.
What was it like working with Aamir?
He is a completely different actor. They are all different from each other. Each experience has been different. It was a lot of fun. For the first two days, Uday and I were like, 'He's Aamir Khan!'. After that, we said, 'This guy is just another one of the boys. He is very naughty.' Nobody knows this about him. He puts on the whole exterior of I am this intense, responsible actor, but he is a big mastikhor.
Did you get a taste of his perfectionist side?
I take great objection to people saying Aamir is a perfectionist. Every actor wants to be perfect. Every actor wants to give their best and make a perfect film and the perfect shot. You make it sound like it's something wrong.
Click here to read what Abhishek has to say about Happy New Year, Aishwarya Rai Bachchan's comeback and daughter Aardhya Bachchan…