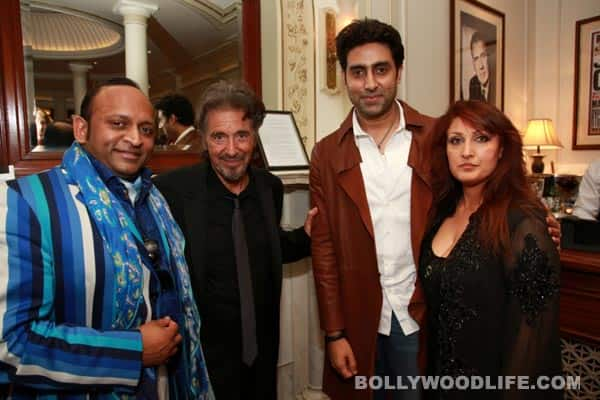 The Bollywood actor attended the An Evening with Pacino show on June 2, but wife Aishwarya Rai Bachchan missed it
Abhishek Bachchan got an opportunity to spend some time with Hollywood actor Al Pacino in London on June 2. BollywoodLife told you first about how Aishwarya Rai Bachchan and Abhishek were slated to meet the veteran at the European premiere of An Evening with Pacino at the London Palladium.
While Ash decided to skip the event – maybe because she was too busy tending to baby Aaradhya Bachchan – Abhi made sure not to miss the chance of interacting with The Godfather actor. The Bollywood couple earlier attended another do in London – Gucci's Chime for Change concert.
An Evening with Pacino is the Oscar-winning actor's show. At the Palladium, it provided fans, journalists and celebrity guests a golden opportunity to have a live interaction with the dapper Pacino. Any idea what Abhishek must've asked him?
Photo: Sterling Media – in the picture with Al Pacino and Abhishek Bachchan are Deepak Kuntawala and Teji Singh of Sterling 2 Ent.
ALSO SEE: Aishwarya Rai Bachchan and Aaradhya at Cannes – view pic!