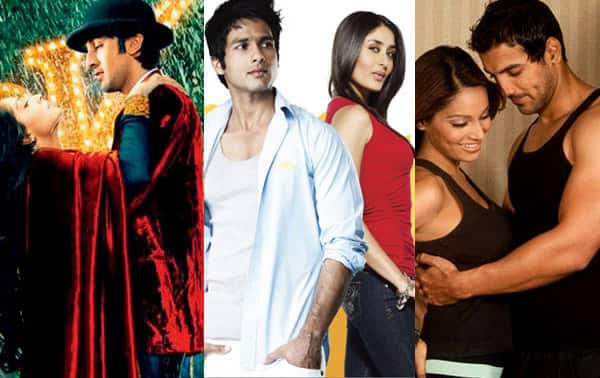 The much-awaited Hrithik Roshan-Kareena Kapoor Khan patch-up, on-screen and off, came to a naught after they both decided not to work in Shuddhi. Last year another much-speculated and anticipated screen pairing (Amitabh Bachchan and Rekha for Welcome Returns) didn't work out for reasons we will never know.
There are many pairs which will probably never come together on screen for reasons that range from professional to personal. Kareena Kapoor and Abhishek Bachchan might never share screen space because of history involving Karisma Kapoor. Priyanka Chopra and Akshay Kumar will never face the camera together. But there are some pairs which can come together, if only they chose to put aside their differences. But the big question is: Will they?
Daddies ki dushmani
Abhishek Bachchan-Sonakshi Sinha
In all probability they haven't been offered a film together. Even though their daddies — Amitabh Bachchan and Shatrughan Sinha — acted together in many films (Dostana, Naseeb, Shaan) they were never friends off screen. In recent years, a truce was called from both sides until the Abhishek-Aishwarya wedding where Shatrughan wasn't invited. He found this insulting and not only returned the sweets sent out by the Bachchans but also spoke about his displeasure to the media. Because of this it seems unlikely that we will get to see Abhishek and Sonakshi ever on screen.
Behna ka bahana
Akshay Kumar-Parineeti Chopra
It is a well-known fact that Akshay Kumar and Priyanka Chopra will never work together again after the very public outing of their closeness, thanks to some telephone bills leaked by her former secretary. And now it looks like Priyanka's cousin Parineeti will suffer as a result of the Akshay-PC fallout. If Priyanka can't work with AK, how can her own sister? While Akshay is open to working with all newcomers, this one remains out of bounds. Unless of course PC says it okay. Meanwhile, directors shy away from casting Parineeti and Akshay together.
Love ke liye yeh nahin karega
Shahid Kapoor-Kareena Kapoor Khan
The break-up of Shahid Kapoor and Kareena Kapoor Khan was one of the bitterest ones in Bollywood. While Shahid maintained that she cheated on him with Saif Ali Khan, she believes his affair with Vidya Balan led to their break-up. Whatever the reason, they stopped speaking to each other after five years of dating. It's doubtful they will share screen space together. They barely acknowledge each other's presence.
When love turned black
Ranbir Kapoor-Sonam Kapoor
They met as assistant directors on the sets of Sanjay Leela Bhansali's Black, became close and then became enemies soon after their first film Saawariya released. They even made fun of each other on Koffee With Karan. She said Ranbir wasn't sexy and he is a mama's boy. Ranbir in turn replied, "She is a bit of a drama queen…" Ranbir's parents Rishi and Neetu were offended when Sonam and Deepika rated their laadla low on sex appeal and constantly hinted about him being unfaithful in a relationship. After this very public pow wow, Sonam decided to forgive and forget and said she has "always been friends" with Ranbir and would love to work with him again but Ranbir has not reciprocated on the subject.
Yenna rascala, mind it!
Ajay Devgn-Kangana Ranaut
When Ajay Devgn and Kangana Ranaut met on the sets of Once Upon A Time In Mumbai, sparks flew and their on and off-screen chemistry was sizzling. Both signed two films after that — Tezz and Rascals. By the time Rascals went on floor, rumours of their closeness began surfacing. The married Devgn, decided to withdraw completely and disassociate himself from his leading lady. She was kept out of the film's promotional events. When their third film together — Tezz — went on an outdoor schedule to London, they didn't even exchange a word with each other off the camera. The status quo remains to this day.
What lies beneath
John Abraham-Bipasha Basu
Nine years is a long time. The couple dated for almost a decade. She waited for him to pop the question. She ignored all the whispers about his link-up. Until one fine day they broke-up. Bipasha was very vocal about John's alleged cheating ways, while his friends alleged that Bips cheated on John with Josh Hartnett, her Hollywood film Singularity co-star. It was a bitter break-up. what made it worse was that John quickly got close to and married Priya Runchal since the split. Bipasha is dating Harman Baweja. But while they have both moved on, the bitterness and acrimony ensuing from the break-up will ensure that these two stars will never work together again.
No band no bajaa only break-up
Ranveer Singh-Anushka Sharma
Even though this couple never admitted that they were dating, it was pretty obvious that they were deeply in love. While some maintain that it was her possessive nature that caused the split, others feel that his philandering ways was the reason. The couple had become close during the making of Band Baaja Baaraat but parted ways, few months after the release. Friends of the couple say the incessant fights between them eventually caused them to go separate ways. In a recent interview, she admitted she is not in touch with him. They haven't been offered a film post their break-up and though it is not unlikely that they will ever do another film together, it doesn't look possible for sometime now. Too soon.