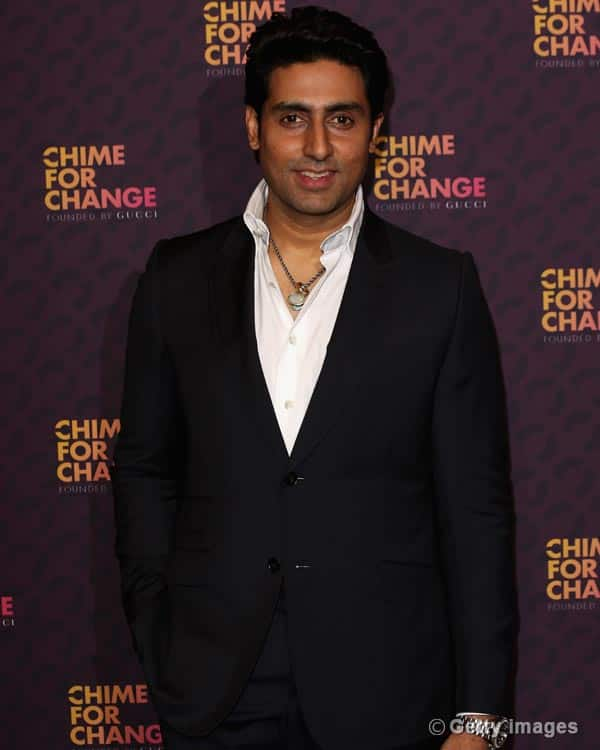 We aren't sure if Bachchan junior will slip into – or out of – yellow short shorts in the sequel of Dostana, but the Dhoom:3 actor says he sure doesn't mind going the John Abraham way…
In a recent interview Abhishek Bachchan was asked if his fans would see him in yellow trunks in Dostana 2. Yes, the same bright short shorts that made John Abraham – his butt, at least – an overnight sensation when he slipped them downwards over his water-slicked rear…sigh…in Tarun Mansukhani's 2008 super hit film Dostana. Though Abhi took a while to respond, the actor said it wouldn't be a bad idea after all to pull on John's shorts in the sequel, or at least something similar and well, ummm, short. While Abhi doesn't mind the idea of wearing the funky oh-so short trunks, wethinks he needs to quickly forget all about that idea. After all, butt, bod or belly, is Jr B any match to Johnny boy? C'mon, think about it!
Remember how a certain Tusshar Kapoor wore similar kinda boxers and then zestfully bared his butt on camera for his adult comedy film Kyaa Super Kool Hain Hum? Even though it was an intentional spoof, Tusshar pulled it off nicely (but only as a spoof) 'coz his body was in pretty good shape – and we all know he works out and is careful with his diet. But we wonder why Abhishek, who has no visible four or six pack abs – or any at all, as far as we can see, even in spite of wifey Aishwarya Rai Bachchan's best efforts – has rarely gone topless onscreen (Game, anyone?) and shows off a tiny little tum-tum under those luridly printed shirts or ganjis (remember Yuva?) – wants to try doing the dare-bare act.
From wearing a hairband to sprouting a handlebar moustache, the Guru actor has done fine so far, all without taking off his top. But wethinks he should spare us those yellow boxers, at least till he hits the gym and gets a perfect hot-bod like John or even his Dhoom:3 co-star Aamir Khan. We think this could only be a low-down item on his wish list…and we ain't the ones to stop AB's baby from spending time in his own little dreamy la-la land, are we? Wink wink!