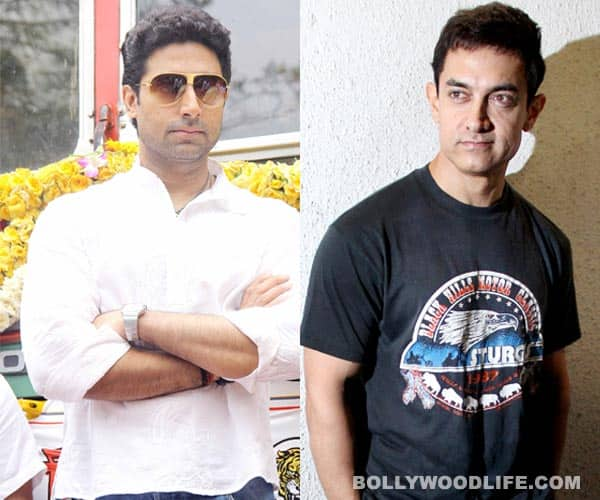 After playing a negative role in Dhoom3, Aamir is likely to be seen playing a 'good guy' in its sequel…
Abhishek Bachchan and Aamir Khan worked together for Dhoom 3 which is slated for release by this year end. While it is Abhi's third film in the Dhoom series, it was AK's first. Jr AB considered it an honour to work with Khan, who plays the villain in the film. We hear that Abhi hopes Aamir to be a part of the fourth installment of the franchise and play a 'good' guy.
While talking about working with Mr Perfectionist, the Dhoom actor says, "Jai and Ali are back and this time we have Aamir with us! What an honour for any actor to get the opportunity to work with Aamir. You just get to learn so much by just observing him." He just can't stop singing praises for Aamir Khan… He adds, "Aamir is so helpful and so caring and giving as an actor that I am honoured to have worked with him. Let's see, we'll try and convince him to come back in 'Dhoom 4' as a good guy."
Though we're super excited about seeing Aamir Khan play the villain in Dhoom 3, Abhishek feels that, there's nothing new about mainstream heroes playing baddies. Hmmm… We bet everyone's more excited to see Aamir as a baddie than a good guy, no?