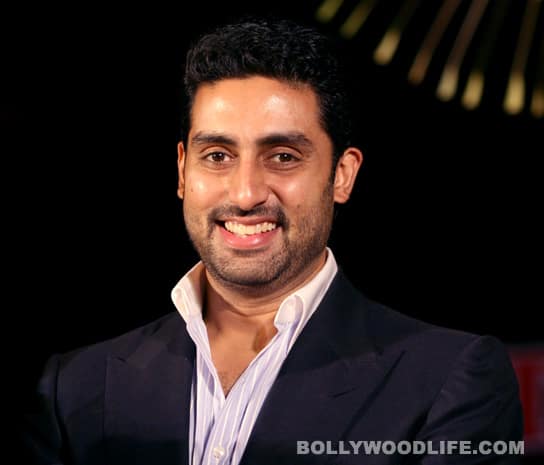 Aishwarya Rai Bachchan delivers a baby girl! The proud papa can't stop grinning, even on Twitter. Good wishes from B-townies come flowing in…
While the entire nation was speculating whether it would be a boy or girl for Bollywood's most glamorous couple, Abhishek Bachchan and Aishwarya Rai Bachchan, the news came first from proud Dada Bachchan, Amitabh, when he tweeted to inform his followers that a baby girl had been born to Ash. And the one person who flashed a wide ear-to-ear grin was the papa himself, Abhishek. Remember we had told you about the Players star's desire to have a baby girl? Well, that wish has come true. The delivery happened at around 10 am this morning at Andheri's plush Seven Hills hospital and it did not take the Bachchans too long to announce the news formally on the social networking site. Enthusiastic Big B tweeted, "I AM DADA to the cutest baby girl!!" While daddy Abhishek announced, "IT'S A GIRL!!!!!! :-)))))" And once the news was broken, good wishes came pouring in. Sassy Bipasha was first to respond to this good news on with "OMG! So excited Baby B is Daddy to a lil Angel! Congrats Ash and juniorbachchan and to the entire family! Welcome sweet baby girl:)" and then there was a deluge of good wishes form B-town's who's who. Take a look!
 Sujoy Ghosh
juniorbachchan way to go pitaaji !
 Genelia D'Souza
juniorbachchan congraattttsss abhishek, I'm soooo excited pls give ash a biggg hugg, can't wait to see the little angel
 Celina Jaitley
Congratulations to you, Jayaji Aishwarya and proud daddy Abhishek and Nani and Nana 🙂
 Celina Jaitley
Congratulations 🙂 juniorbachchan: IT'S A GIRL!!!!!! :-)))))
 Genelia D'Souza
SrBachchan congrats sir, I'm sure Jayaji and you are thrilled, so so happy and lots and lots of love
 Vishal Dadlani
@SrBachchan Congratulations, Sir!!! What great news!!! Thrilled for all of you! Our very best wishes, as always, and much love!
 Karan Johar
Congratulations!! Baby B had a baby girl!! juniorbachchan!!! All the love and happiness…am sure she will be the prettiest girl ever!!!
 Celina Jaitley
Very happy for the Bachchan family. They have a little angel fairy amidst them. She is gonna be gorgeous 🙂
 Arjun Rampal
Congratulation daddy cool @juniorbachchan and the coolest DaDaji @SrBachchan and the most beautiful Mommy Ash and the lovely Dadi Jayaji.
 Dino Morea
@juniorbachchan congrats buddy. Love and luck to all.
 Tanishaa Mukerji
@SrBachchan @juniorbachchan. Congratulations To u all♥
 Vishal Dadlani
@juniorbachchan Woohoooo!!!! Thrilled!!! Congratulations again, to you and the Memsaab! Love, blessings, best wishes, always!!!
Click here to know more about Abhishek Bachchan's desire for a baby girl!