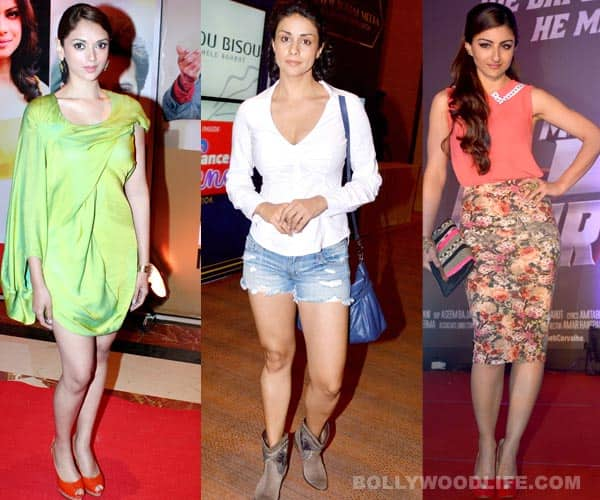 We all remember how the efforts of Bullett Raja's cast, to participate in a bike rally in Delhi, to motivate people to vote, went kaput. It seems like the whole industry wants to persuade the national capital's aam janta to vote and change the fate of their beloved city
With only 48 percent polling till 3 pm, Bollywood celebrities like Aditi Rao Hydari, Gul Panag and Soha Ali Khan took to Twitter to motivate Delhiites to step out and exercise their democratic right for Delhi's state elections on Wednesday. Here's what they had to say:
Aditi Rao Hydari: Today is the day – Delhi go Vote! It's your country, your city, own it!
Neha Dhupia: Make your choice Delhi. When things go right or wrong you know you are responsible for your leader. Send an image of your inked finger! As Delhi is all set to vote today (Wednesday), my dad Pradhoop is all set too. Vote for Aam Aadmi Party (AAP).
Gul Panag: Delhi get out and vote. Yes. Or else, you will have no one to blame for the state of affairs but yourself. Yes.
Soha Ali Khan: Exercise your right to vote today Delhi! It's the only way to have your concerns represented in government and for your voice to be heard.
Anupam Kher: Vote for any person or party that gives you a sense of security. It is your one chance to make a difference to your own future. Go and vote.
Vishal Dadlani: For too long, the corrupt have "fooled and ruled" us. It ends tomorrow. Vote for a better India. Dilli, dikha do AAP kya cheez ho! (Delhi show what you are)
Chetan Bhagat: Okay Delhi, today, show them who's the boss. Happy voting!
Dia Mirza: Delhi vote today! Get marked. No excuse for not exercising your most important right!
Kunal Kohli: Delhi, go vote,for anyone, but vote.
Koel Purie: Did you go vote? Normally, I keep my ballot secret but this year Sheila nani (Sheila Dikshit, who has been presiding over Delhi's affairs for an uninterrupted 15 years) has to be retired. Go vote for AAP and let's see things change.