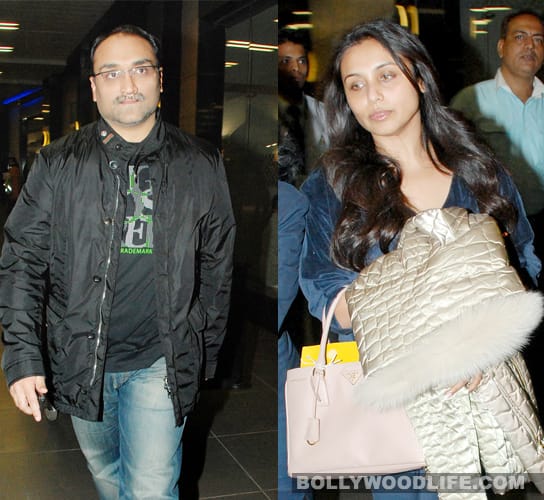 The No One Killed Jessica actor recently flew down to London to meet Aditya Chopra on the sets of Yash Chopra latest film
January 2012, Yash Raj Films' head honcho Aditya Chopra and his girlfriend Rani Mukerji, were photographed at the airport on their way back from New Year celebrations. According to latest goss, the No One Killed Jessica actor recently flew down to London where her beau Aditya Chopra is assisting his father Yash Chopra on the love drama starring Shahrukh Khan and Katrina Kaif. No, she didn't go there to just chill out, but for a special reason. It was Rani's birthday on March 21. Now, isn't that very sweet? The birthday celebration wasn't an elaborate affair; the couple just had a quiet dinner with Chopra senior and Shahrukh Khan. Apart from spending time with Aditya, Rani even frequented the sets of the SRK-Kat starrer and seemed very comfortable being in the public eye.
While all this is nice and mushy, the juicy detail according to close pals is that the secretive couple is ready to take the plunge this year. The prime reason for this development is the lady herself. Rani wants to make the relationship official. We'll be glad when that happens, 'coz it'll prove that the media isn't making smoke out of thin air!