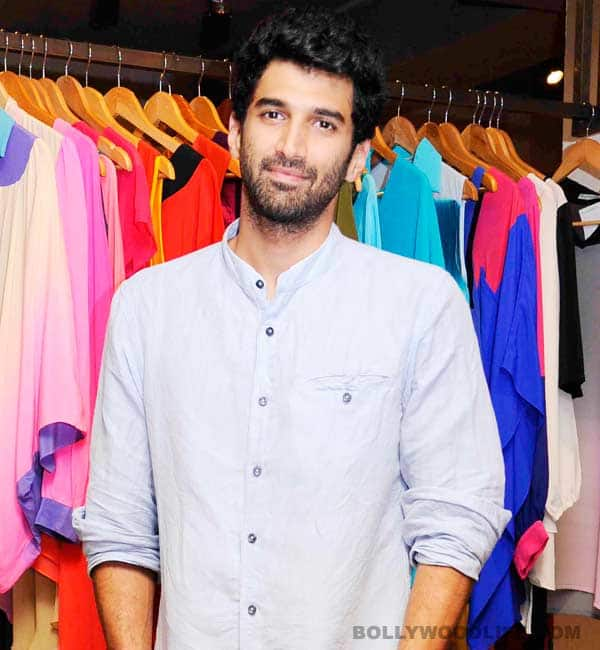 The Aashiqui 2 actor gets chatty about fans, females and films
I am late for my appointment with Aditya Roy Kapur. This is where I complain about the city traffic (same journey takes 20 minutes one day and 45 minutes on another). I am close to a heart attack, because reaching on time is a matter of life and death to me. I walk into the coffee shop to find the Bandra boy hunched in his chair. He's wearing a chequered shirt, blue jeans, chappals and hiding behind a thick beard and a cap worn backwards. It's almost like he is dressed not to get recognised. But the Aashqui 2 hero's disguise doesn't work.
On our way out he is accosted by several fans for pictures and autograph. Not that I needed any proof of his popularity. It was at a ladies lunch at a restaurant in the same hotel, a few days ago, that I discovered how favoured he was with the females of my species. He featured in the the top three of everyone's list in a group ranging from 20-plus to 40-plus. Then I tested his desirability in the ultimate group college kids my niece and her friends. The oohs and the aahs that his name evoked was all the confirmation I needed. Yes, I had been living under a rock and in the meantime, ARK had become an overnight sensation. Much like the other Kapoor (Ranbir). Aditya has already worked in a Karan Johar production (Yeh Jawaani Hai Deewani) and will soon begin shooting for an Aditya Chopra production. A nod from the biggies, the love of female population of the country, and a solo Rs100 crore film tucked firmly under his belt, this kid is well on his way to staking his claim in stardom.
Time to get into his head. Read on…
19th birthday with Salman Khan
He looks alarmed at the sight of my questionnaire, "Oh god, you have questions written down and all." Clearly he is having a moment of deja vu, having done this before. He nods, "I was with channel V for four-and-a-half years. I used to do this. Make questions and interview people." I suggest he interview himself, "It'll be a very boring interview if it's Aditya interviewing Aditya. There's nothing I have to ask myself." Here it needed to be asked who he enjoyed interviewing the most. Pat comes the reply, "I think Salman Khan was a fun interview. It was my birthday that night. I was 19 at that time and I was really nervous. I hadn't done many interviews. We ended up doing the interview around 11.30 that night and then he got to know that it was my birthday so we ended up cutting a cake. It was a lot of fun."
First film: Just for fun
His first film was also with the Khan (London Dreams). A film he took up because it meant spending a month in London. "People assume that if you are on TV or anyway associated with it, you want to become an actor… Someone sees you in a magazine or on TV and you get called for auditions. Amrita Saigal asked me to audition. I wouldn't have gone, but I went for this one because I felt a little guilty that someone was asking me to some and 'how can I not show up'. The audition went well and they told me I was on. It took over a month-and-a-half in London to complete the shoot and I had to play a guitarist. I was kicked about that. And having fun in London, so I said to myself, why not do this rather than regret it a few years later?" Not only did he take up an acting role for an unconventional reason, he has also done only unconventional roles. He argues, "I think all the unconventional stuff comes to me. Maybe some people think that I am unconventional. I have no aversion to conventional roles, it's just that I need to really believe in the role I take up. And that's been the case right from the time I came into the industry."
Tasting stardom
When London Dreams, Action Replayy, then Guzaarish didn't work, did he think that maybe acting is not for him? "I did. But somewhere deep down I had a feeling that this will happen for me.
There were times I said no to films that were coming my way and everyone said I am a fool for saying no. But I was ready to wait. I knew something would happen…" Didn't his brother shake him and question his decision?. He shakes his head, "No. Not Siddharth. It was more my mother! In retrospect, I believe work gets you work. You can't be sitting in your house waiting. Out of sight is out of mind in many ways. Because I took that step and signed YJHD and then other films happened."
My way…
ARK's journey has been different from that of his peers. Firstly, his success came with a grey role. Secondly, he made his debut and then vanished for almost four years. Now he is back, part of two Rs100-crore films (YJHD) in 2013! "Yes, it's been good actually. I have seen different aspects of the industry through this journey. I know what it is to be on the sets as a supporting actor and wait around. And now I know what's its like to have 35 people in a hotel lobby waiting for you. My journey has been something that I will not trade for anything in the world. It's also a party because I am sitting here today in a certain good space."
Mr 100 crore!
While most actors grow up knowing they want to face the camera, Aditya knew he wanted to be an actor, only after he had did it. "Only once I became an actor did I think about doing it seriously. But I never really grew up on this staple of watching movies and being enamoured by it. I would in fact scoff at the idea because I couldn't imagine myself acting. I'd look at films and say 'what rubbish.
How could I do this?' But I ended up doing a film and realising that this is fun." From doing a bit role in a film starring `100 crore heroes Salman Khan and Ajay Devgn, to getting a `100-crore film of his own, Aditya's made the journey pretty quickly. Did he ever dream that big? "None of us expected it to be what it finally became. We had a positive feeling when we were shooting for it. There was this very positive vibe on the sets. Even if something went wrong, eventually something positive would come out of it."
Drinking for success
And it did. For the film, and also for him. . The critics as well as the audiences approved. He has done three big-budget films but a small film like A2 got him success. Isn't it ironic? "I guess so. That's just shows how unpredictable the movie business is… you never know what will strike a chord." He smiles as he recalls his best compliment for A2, "An elderly lady came out of the trial and told me 'I've lived with an alcoholic my whole life. They are good people. I know them inside out. You are a good alcoholic. You played it right.' She was speaking from experience… so I was like, okay that's nice." Interestingly he didn't hesitate to play a drunk without a cause, when most actors want to have strong justification for a grey character. He took the risk. He explains, "This character is grey. And you have to accept that. If you're gonna fight the reality of the part, then you can't do justice to it. It's a call you take and go with the script."
Bikes and girls
So how did he celebrate his first Rs100-crore hit? "I got a car. That was my biggest spend. I bought a BMW." Surely he could not have been paid that well for A2! He grins, "Let's just say I got a car. Why get into the nitty-gritties?" An avid biker, he was often spotted zooming around the city on a bike. But that's changed now. He says that is not because he prefers a car now, but more to do with the safety of the fans. "Ever since Aashiqui 2 and Yeh Jawaani… happened, I am getting a little troubled. Because sometimes group of bikers surround me and make me stop to take pictures. They chase me, it is dangerous for them. So I have stopped riding the bike that much" Dealing with the enthuthiastic female fans is something that he is learning how to cope with, "Girls can be as forthcoming as guys. I have had a few girls who have come in front of my car and showing their affection. But no complaints."
Ishq vishq
While the ladies seem to love him, he isn't in love with anyone at the moment. He denies any romantic liason with his co-star Shraddha Kapoor. "Maybe that's one of the weirdest rumours I have heard about myself. I would talk about it, if it were true." He hasn't even considered dating an actress, "I have never put any thought into it. But I never say never. So I am not going to say that I'll never date an actress. Till it happens, till you find a person, I think it's really silly to generalise to say anything. I would take it as it comes." Does he have a type? He pauses to think then says, "I have dated and had a few girlfriends, but I don't have a type. So I can't say things like I would like my girlfriend to like cycling or have a similar taste in music… I don't know if I have a type." So he all his girlfriends were totally different from each other? "Now you are making me think… but yes, I don't think they are in the same mould," he smiles.
The YRF factor
Aditya Chopra has signed him, which means he is already in the big league. So when in need for advice who does he approach? Brother Siddharth Roy Kapur, who heads Disney UTV or mentor Adi? He says, "I chat with both my brothers (Kunaal and Siddharth) a lot. I like to get their perspective. They don't really make a decision for me ever, they just give me their point of view. Sometimes they don't say anything and tell me to think it out. I look at it completely as an advantage that the three of us are in the same zone."
My space
Every actor has a niche, what sort of roles does he see himself doing? Action, comedy, romance, drama? "I think all sorts of roles apart from the drinking ones. I am done with the drinking roles. I don't know how many different kinds of alcoholics one can play," he asks. Maybe modern day Devdas? He laughs, "Let's see how it goes. Actually, many people ask me what sort of roles do you want to play. I have never thought of it that way. I haven't done action, so I don't know if that would be my comfort zone. I love comedy and I am decent at it, I think. I enjoy it. I love action films… Terminator 2 is my all-time favourite. I would love to get a car and do stuff like that. Right now there are so many different scripts out there that as an actor you have the option to pick what you like."
And finally, how can the bulging muscles and killer abs not be discussed? He explains it is not for a film. "I have always been working out. It's only for the past year-and-half that I haven't been into the gym at all. I feel like being fit. I only let go for a bit. But then I have been fit after that. It's not for any role or I don't like Rambo or anything… It's fun." You can say that again!