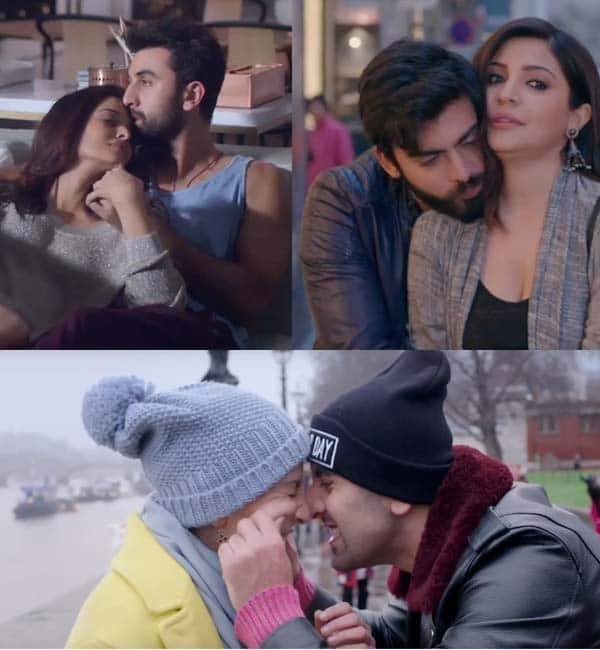 Everything about Ae Dil Hai Mushkil is making us go bonkers right now and why wouldn't it? After all, the film not only boasts a dreamy cast to the likes of Ranbir Kapoor, Aishwarya Rai Bachchan, Fawad Khan and Anushka Sharma but also narrates a breathtaking plot that talks about love and heartbreaks! Add to that, Ae Dil Hai Mushkil also marks the directorial return of Karan Johar and of course a special cameo from Shah Rukh Khan – now with such a helluva combination put together, do you think anything can ever go wrong? No way! Living up to everyone's expectations, Ae Dil Hai Mushkil is literally making our 'dils mushkil' for the trailer that's just hit the web looks so ridiculously hot. No seriously! Right from the visuals to the music to the chemistry between Ranbir-Ash, Ranbir-Anushka or say Fawad-Anushka, everything about the Ae Dil Hai Mushkil trailer will make you desperate for Diwali as that's when the film will finally hit the screens. I mean, the trailer is so beautifully being made that you would want to take notice of every little moment, even if it's just a passing moment…Also read: Ae Dil Hai Mushkil Trailer: Aishwarya Rai Bachchan, Ranbir Kapoor and Anushka Sharma's COMPLICATED love triangle has us HOOKED!
Here we give you 5 standout moments from the trailer that has instantly impressed us..
#Ranbir-Ash's passionate romance
While you already saw a glimpse of Ranbir and Ash's insanely hot chemistry in Ae Dil Hai Mushkil teaser and songs. The trailer further elaborates on their relationship with their lingering romance on display. Trust me, every time Ranbir and Aishwarya came together onscreen, we literally had our jaws dropped. They not only look heavenly together but even the proximity level that they share looks so intense that you would want to stay hooked to this romance..
Unbelievably relatable dialogues!
Apart from Ash and Ranbir's chemistry, it's the dialogues that will win your hearts. Right from where Anushka says, "Pyaar mein junoon hai lekin Dosti mein sukoon hai." To Aishwarya saying, "Main kisiki zaroorat nahi, khwaish banna chahti hoon." Talking about unrequited love, Ranbir makes one helluva dialogue saying, "Kabhi kisine tumhein chanta maara hai? Usse chaante ko ishq kehte hai. Aur vo chanta aur zor se padta hai jab koi teesra aa jaata hai. Kyun aajata hai koi teesra? Oh! We're losing ourselves into the world of Ae Dil Hai Mushkil..
Ash-Ranbir-Anushka face off
There is this interesting twist in the trailer where Ranbir, Anushka and Aishwarya – all three are seen sharing the same frame and Ash cracks this brilliant urdu line saying, "Pehle jaisi mohabbat ab na ho paayegi har baar." Probably, this is the confrontation scene where Anushka finally figures out that there's something more going on between Ranbir and Aishwarya.  Uff yeh lafz…Also read: Aishwarya Rai Bachchan and Ranbir Kapoor make passion look SEXY in Ae Dil Hai Mushkil- view pics!
Anushka's 'Tabaahi' moment
This again is one crucial scene. So in the film, Anushka is married to Fawad Khan and she even gets a tattoo of his name. But she isn't happy with her married life for when Ranbir asks her yeh 'Ali' kiska naam hai, Anushka hits back saying, "Tabaahi"
Ranbir shows his middle finger to Anushka!
And finally the climax of the trailer which has Anushka crying wearing her bridal outfit while an angry Ranbir walks off by showing his middle finger. Is that the end? Is it like Ranbir Anushka are to get married in the end? Well, we don't want to break the suspense for you!
Here watch the trailer below and tell us what more did you find interesting about Ae Dil Hai Mushkil! PS: Don't miss out on spotting Shah Rukh Khan in the trailer. Just saying!