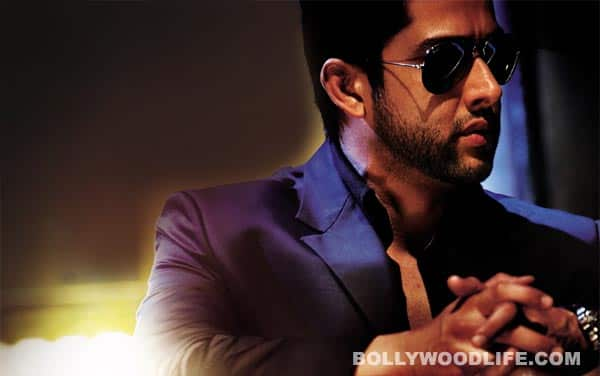 The last time Affie was seen on the big screen was in the horror flick 1920 – Evil Returns which didn't do well, but now the actor is back to doing what he knows best – comedy!
Onscreen, Aftab Shivdasani's comic timing is bang on. Off screen too the dimpled actor loves to entertain people. First-hand experience was ours when we caught up with the tall, handsome Mr Shivdasani, who seems to be working out a lot these days. His well-toned physique grabbed attention instantly. He is soft-spoken and has no starry airs about him. He greeted us warmly, shook hands and said he couldn't wait to get started talking about his new film Grand Masti. But who convinced Aftab to do the film? Why did they take six months to shoot a song? Is his chemistry with his co-stars still the same….
What was your reaction when you first heard the Grand Masti script?
I hid behind a couch. I told our scriptwriter, 'How can you write such a story?', coz it is so bold. I was like, 'Are you mad? Are you trying to kills us with this film?'. He said we can do this, but me along with Riteish Deshmukh and Vivek Oberoi had our reservations about it. It was director Indra Kumar who convinced us and walked us through this mad ride. We all have gone beyond our comfort zones in Grand Masti. I can say this is the boldest film that I have ever done.
Grand Masti has gone one step further as far as adult comedy is concerned. It may work against you…
Certainly it can. You can't make a film for everybody. And this is one space that hasn't been explored enough in Bollywood. There are very few commercial hardcore adult comedies. Usually all adult comedies fall into the category of 'soft porn', but this doesn't. The jokes are funny, but to some people they might come across as vulgar. I want to clarify that we haven't made this film to offend anybody's sensibilities. It's an entertaining film, but it may not attract some people, mostly women, who may feel that women are being shown in a bad light or that it's encouraging unfortunate incidents in society. But I don't agree with that. This movie has been made for comedy, with comedy, and not for sending out a social message. If you can't see the light side of it, then that is your personal predicament. I am not going to change. If it doesn't appeal to you, then good luck to you!
A certain section of Bollywood has reservations about doing sex comedies or adult comedies….
Every actor has his/her own parameters of what they are comfortable doing and what they aren't. So to each his own…It's suppose to be a democracy, right (smiles)!
In Masti, the chemistry between you, Vivek Oberoi and Riteish Deshmukh was amazing. Was it the same when you came back together after nine years for Grand Masti?
By God's grace the chemistry was still intact. You will see that in the film. Otherwise too, we are good friends and love hanging out together. Apart from having love and respect for each other, the most important thing is that we don't take each other seriously. If we do, then it becomes hard to do a film like this. In fact, the chemistry is much better than in the first part.
Vivek said that no girl would marry you after watching Grand Masti….
Yes, and we all cracked up hearing that. He said that as a joke and I took it as a joke. If I start taking him seriously, I would have kill him. But as I said, I love these guys and thankfully we all have a great sense of humour. And we don't take each other seriously beyond a point.
Is this a remake of American Pie Reunion?
Not that I know of. The only thing common between the two films is the reunion aspect.
David Dhawan, Priyadarshan, Anees Bazmi and Rohit Shetty are directors who love making comedy films. Do you plan to work with any of them?
Of course! Why not…. They all are fantastic directors. I remember Davidji and Govinda's jodi in the '90s was untouchable. Nobody was a bigger star than Govinda. I would love to work with them, coz they all are stalwarts in their own way.
Was there any particular scene where you had to do retakes because you couldn't stop laughing?
The first day, I gave 17 retakes for a shot. The film starts with me and there is this very funny line which has a double meaning. It's an outrageous line, so I am not going to say it here. And I got fried in that shot. Besides that, there was one more instance. We were shooting this song called Zulmi zulmi and it is picturised on all three of us – me, Vivek and Riteish. That's the song for which we shot for six months and five days. On the first day we shot at Vasai port from 7 in the morning to 6 in the evening. It is said that something is wrong with that port – not one take was okay. We must have danced the same steps over 400 times. I would goof up, then Vivek would goof up and then Riteish. This happened all day long. You can call it whatever you want, but never in any of our careers have we gone through shooting an entire day with not one shot being fine. It's just something strange that happened. Then we had date problems, so the song took so long to be shot.