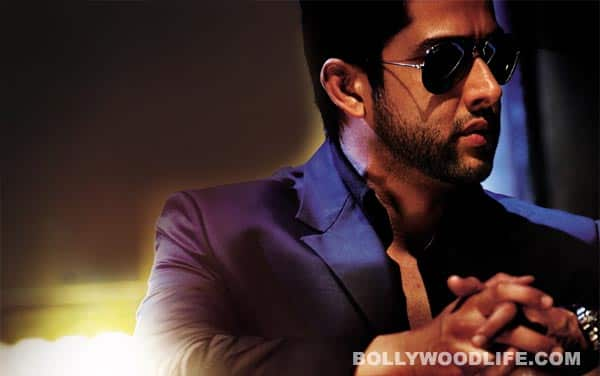 At one time Aftab Shivdasani was the most promising hero around. But when opportunities began drying up, he was forced to make certain career choices that were unfavourable, in retrospect. However, Aftab, in his relentless pursuit of success, reinvented himself and embarked on his new innings
Presently shooting Indra Kumar's Grand Masti in Baroda (Gujarat), the actor is pinning all hopes on his next release – 1920: The Evil Returns – directed by his filmmaker friend Vikram Bhatt. Things are indeed looking up for the Mast actor as he completes 13 years in Bollywood this month. And he aims to keeps the mood lively with his cheerful conversation….
Your debut film Mast released on October 15, 1999; this October, you complete 13 years in Bollywood. When you look back, do you think your journey has been mast?
Yes, I have 40 films to my credit. I went through certain ups and downs, but I can proudly say that it was one adventurous journey and I have enjoyed it. The good part is that I kept on learning from my mistakes and tried to grow as a person and I continue to do so. I have absolutely no regrets about whether films have worked or not. Of course, there are certain hopes and aspirations; you want every film to work, but I think you shouldn't limit yourself to just thinking that your value has gone down because your films didn't work. Luckily, I was acclaimed in most of the films that I did. But yes, people say that I should have got more success at the box office and all that. That's fine, that's all perceptions. I was working with the people I wanted to work with. I have no regrets, to be very honest.
As a spontaneous performer, do you think the industry has been unfair to you? Has your potential been properly tapped?
I don't think the industry has been unfair to me. It's basically: you reap what you sow. It's all about the relationships and equations you make here (Bollywood). And nobody has been unfair, mean or rude to me. Everything has been circumstantial. I've never held anything against anybody in my life. I think there's a lot more inside me that needs to be tapped. I guess with time and opportunities, God willing, all that will get tapped too.
In that case you must be looking forward to 1920: The Evil Returns…
Yeah, because it's coming after a long gap. It's also one of my challenging performances till date. But it gave me a high as a performer. Intense roles are more challenging than comedies or light-hearted films. It was a different genre that I was doing for the first time. It's also special because I've worked with Vikram after four or five years. And this is our ninth film together. I'm really looking forward to the film's release. It has certainly tapped a certain amount of my potential. More importantly, I hope the film does well at the box office. Every actor aspires for his films to be successful.
Did you get scared watching your beautiful co-star Tia Bajpai perform as the ghost?
No, because it was all prosthetics and make-up. It was great working with Tia. I think she has done a fantastic job. She definitely manages to frighten in the promos and songs. People who have seen the promos are getting scared, so I guess half the battle is won.
Do you get scared easily?
No!
Vikram Bhatt has become the horror film specialist. Do you think he is the best ghost-story teller we have in Bollywood today?
I would say Vikram is exceptional. It's the genre that really excites him and he's very passionate about it. More importantly, he has got lot of success with the genre in the past, with Raaz, 1920, Haunted (3D) and his latest horror flick Raaz 3. He understands the pulse of the genre and even the pulse of the audience – what they want to see. He's definitely right at the top today in making horror films. He's amazing.
You're desperately craving a hit film. Is this a major reason to work with Vikram whose last horror film (Raaz 3) did good business at the box office?
I don't go by the fate of a filmmaker's last film. As I said, 1920: The Evil Returns is my ninth film with Vikram, so we are above hits and flops. I'm glad Vikram offered me my first horror film with a good story and a good role. I don't think too much.
From the theatrical promos, 1920: The Evil Returns seems like a hangover from the first part, where a husband tries to save his wife from an evil spirit. How would you explain the difference?
1920… is a franchise and not a sequel. You cannot compare two films. It's a period film based in 1920 and it's about different characters in a different story. The second part has got absolutely nothing to do with the first.
Despite being in the industry for a considerable time and working with big banners, you're still not considered a solo hero. Some of your biggest hits have been films in which you played second lead. What do you think went wrong?
Every film I did has certainly helped my career. The number of successful films is much less than the number of films that failed at the box office. But the fact that I'm still working is a sign from God, and He has been kind to me. People have appreciated my work, blessed me and given me hope to carry on and given me encouragement. I don't really look at the past. For me, as long as I'm working – that's important; work is my worship. I'm very happy doing what I do. There's nothing to regret. The only thing I feel I should have done is probably strategised my career a little more, which now I'm doing.
Is Grand Masti going to be raunchier and bolder without crossing the line of vulgarity?
If that thought exists in our minds, then it will translate on to the screen. But as actors and filmmakers, if it doesn't cross our minds or if it's done with good intentions, then I don't think it will cross the mind of the audience either. If we get embarrassed doing it, I'm sure people will gauge that from our work. But if we are comfortable about it, which we are, then I think it should be okay. As far as I see, I know it's pretty much okay. Grand Masti is going to be bigger and better, but I'm sure it's going to be much funnier than Masti.
What's next?
Right now I'm focusing only on Grand Masti. We intend to finish shooting by December. I'm not doing anything else, although I would like to, but I am just waiting for the right opportunity.