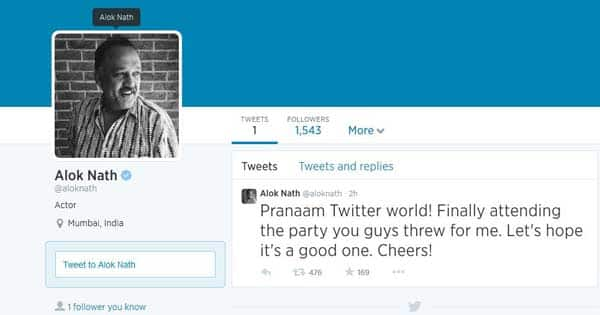 The man who was catapulted to fame on twitter because of the innumerable jokes on his onscreen avatar, has finally come on the same platform
Arjun Kapoor created a huge buzz about joining Twitter right before his birthday and finally joined it a couple of days back. Now everyone's favourite babuji Alok Nath has also joined Twitter today. Fans can now follow the actor on @aloknath. If we recall Alok Nath jokes suddenly started trending in the later part of the last year and till date they are able to make us laugh.
The man who is famous for doing a lot of kanyadaans onscreen definitely has a great sense of humour himself. Alok Nath tweeted, "Pranaam Twitter world! Finally attending the party you guys threw for me. Let's hope it's a good one. Cheers!" He has managed to bring his sanskari side by starting with 'Pranaam' and ended it well enough with a 'Cheers' showing his up to date and carefree nature.
We met him a few weeks back at the launch of the first radio film, where he had said that he will never join Twitter. We wonder what made him change his decision now. Whatever it is, we hope his stay on the micro blogging site is warmly welcomed by all his fans. Because you never know maybe after making fun of his onscreen avatar, people might just start making sanskari jokes out his tweets? Hai na peeps?