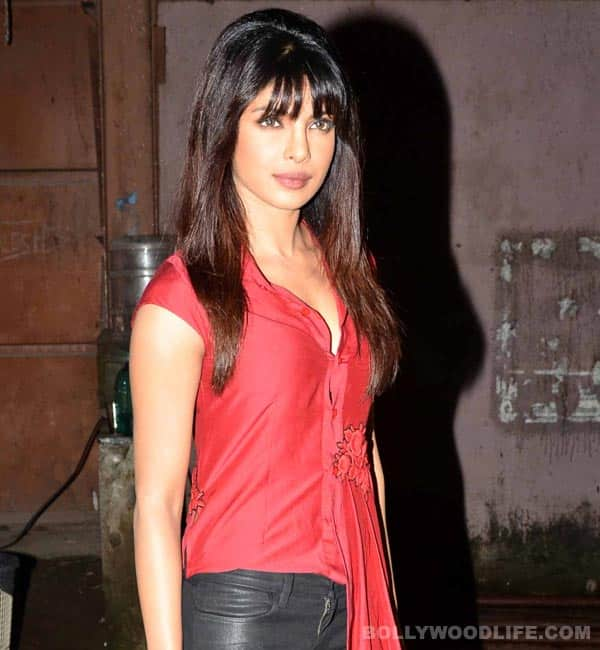 The Bollywood diva certainly seemed to be Zanjeer's angry young wo-man when we met her recently…
Priyanka Chopra was left fuming at the recent promotions for her new film Zanjeer 2.0, and the reason was her co-star and southern filmi biggie Ram Charan Teja. Now we all know that PeeCee works on an amazingly tight schedule, and the actor has been jet setting from one country to the other for her film, album and endorsement assignments. At such a time an hour and half might mean a lot of moolah and a huge waste of the Exotic babe's precious time. As a matter of fact, Piggy Chops is a much bigger star in B-town than RCT and that certainly is reason enough for the lovely lady to be even more annoyed – having to wait for a Bollywood debutant to turn up.
We would like to warn Mr Teja to be more punctual next time around, coz we know what happens when PC blows her lid – recently she got Sanjay Leela Bhansali to change the location of the Mary Kom shoot from Manali to Mumbai after she was bitten by a bug there. And that sent her flying to the producer in a tantrum. And she got her way. Just imagine what the jungli billi would do to the newbie on the block if he made her wait just one too many times! Apparently Ram Charan has been turning up late to events consistently – our observation is that the amount of make-up that this hero wears could put any heroine to shame. Maybe this is why the lovely heroine's co-star is taking so long to get to event venues, no? Wink! Wink!
And Priyanka, our suggestion is to spend your precious waiting time taking a power nap and snacking on some calorie rick khana – after all, you have been globetrotting madly for a while now and are looking much thinner than we like seeing you. A little rest and re-couping wouldn't hurt, would it, peeps?