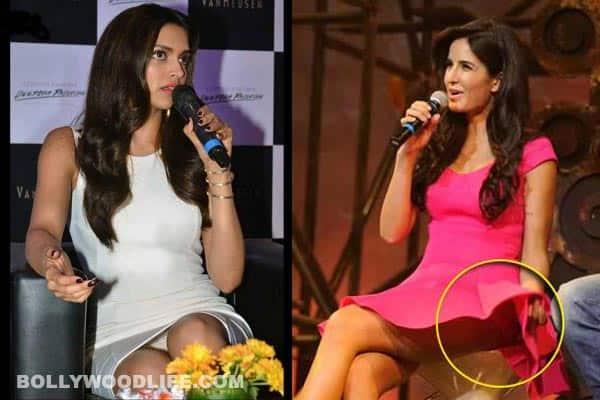 The leggy lass revealed more than what we wanted to see at an event recently
Not so long time ago, Ranbir Kapoor's alleged lady love Katrina Kaif had a rather embarrassing moment at a Dhoom:3 promotional event, when her short and cute pink dress flew a little high revealing her panties. And now, it's Ranboo's ex-flame, Deepika Padukone, who had a very similar peek-a-boo moment recently.
Dippy graced an event recently wearing a short white dress. And we must say, she was looking quite lovely in that attire. However, as soon as she sat down, she seemed a bit careless about her posture. Yes, she went on to reveal more than she intended to as she flashed her white undies to the shutterbugs present there. And all of this was of course unintentional, as she didn't realise her underwear was showing and continued chatting with the media. Well, well! Such behaviour isn't expected from Dippy, hai na? After all, she doesn't need to do such publicity stunts to make it to the headlines.
Anyways, this ain't the first time when Ms Padukone has suffered a wardrobe malfunction. Some months ago, the Chennai Express actor was at an event where she was seen posing with Amitabh Bachchan, alleged boyfriend Ranveer Singh, Farhan Akhtar and Anupama Chopra. While she was giving a hug to Big B, everyone got a view of her torn jacket!
Well, all we can say is that Ms Padukone needs to be more careful, considering that this is her second wardrobe malfunction. After all, the fashion police won't ignore such things under any circumstances again, right? Let's just hope that it doesn't happen again, because third time lucky could just turn into third time unlucky.