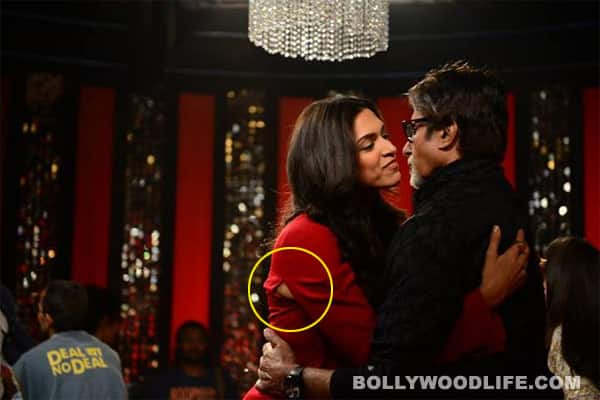 skip advertisement
The leggy lass is known for her super stylish appearances. So, was she trying to set a new trend by wearing a torn jacket? Well, read on
Not so long time ago, Ranbir Kapoor's alleged current Katrina Kaif suffered an oops moment at a Dhoom:3 event, when her tiny dress flew a lil too high revealing her undies! And now, his ex-flame Deepika Padukone had a fashion fumble at a recent event.
The leggy lass was seen posing with Amitabh Bachchan, Ranveer Singh, Farhan Akhtar and Anupama Chopra. Anyways, this time around, we didn't get to see DP in Ranveer's embrace and we aren't complaining coz Deepika was caught and clicked hugging Amitabh Bachchan!
What's the big deal, you ask? Well, there was nothing so unusual about the actors having an eye only for each other while in each other's arms, except for the fact that DP's jacket was torn underneath her arms! We're sure the slit underneath the arms wasn't some unique design sported by the fashionista. We wonder if the jacket tore when the leggy lass stretched to hug the really tall Mr Bachchan. But DP herself is quite tall and it's unlikely that her ill-fitted and loose jacket tore 'coz of the hug.
All we can say to Deepika and Katrina is, please look into the mirror up and down, round and round, sitting, standing, stretching and in every possible pose before stepping outta the house the next time… The fashion police certainly won't pardon you for such wardrobe malfunctions each time. Also, neither of these actors need to do such gimmicks for grabbing headlines, considering they're so popular with the audiences, hai na?