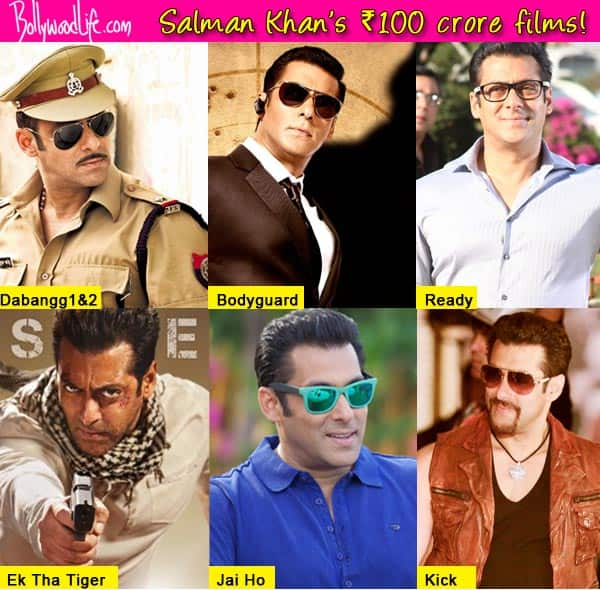 The Wanted actor has become the most bankable star in the present time
Salman Khan starrer Kick entered the 100 crore club recently. Thanks to Kick, Salman can now be openly called the king of 100 crore films. He has seven back to back hits which have crosses the coveted 100 crore mark.
Trade expert Taran Adarsh tweeted, "With #Kick racing towards ₹ 100 cr mark, Salman Khan is the first actor to have the *maximum* 100 cr grossers to his credit: 7 films!" and true to his words Kick has helped Salman bag this big title. Trade expert Taran also tweeted, "Salman Khan ₹ 100 cr grossers: #EkThaTiger, #Dabangg2, #Bodyguard, #Dabangg, #Ready, #JaiHo and now #Kick [heading towards it]. 7 films!" So let us have a look at all these films explicitly and get to know as to how long it took them to reach the coveted mark.
Dabangg
Released: 10 September 2010
Crossed 100 crore in: 10 days
Lifetime business: 138.88 crore
Ready
Released: 3 June 2011
Crossed 100 crore in: 14 days
Lifetime business: 119.78 crore
Bodyguard
Released: 31 August 2011
Crossed 100 crore in: 7 days
Lifetime business: 148.86 crore
Ek Tha Tiger
Released: 15 August 2012
Crosses 100 crore in: 5 days
Lifetime business: 198.78 crore
Dabangg 2
Released: 21 December 2012
Crossed 100 crore in: 6 days
Lifetime business: 155.00 crore
Jai Ho
Released: 24 January, 2014
Crossed 100 crore in: 3 days
Lifetime business: 107 crore
Kick
Released: 25 July, 2014
Crossed 100 crore in: 5 days
Lifetime business: 197.7 crore*