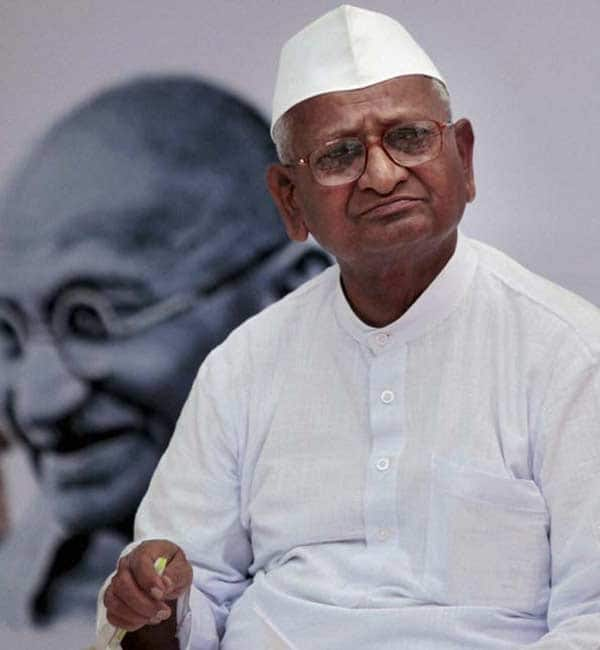 Another biopic seems coming our way…
Biopics seem to be the new flavour of the season. Every filmmaker seems to be coming up with a script for a biopic on some famous personality and this time its our very own Aam aadmi ka bhagwaan. Yes you got it right. Anna Hazare's life is going to be enacted on celluloid. If we recall various directors are in the process of making biopics on Mary Kom, Azharuddin, Bhupen Hazarika, PC Sorcar, Bhagwan Dada and many more. It seems the trend has caught up because of the super success of Farhan Akhtar starrer Bhag Milkha Bhag based on the life of athlete Milkha Singh and with Shahid, based on the life of slain human rights activist Shahid Azmi, winning two National awards, every filmmaker now more charged up for finishing their biopics first.
Our khabroos have informed us that director Shashank Udapurkar has got an official consent from Anna Hazare to make a biopic on his life. The biopic will showcase the life and struggles of the anti-corruption activist. "It took me long to complete the script on Anna. I had drafted seven scripts before finalising it, since it is a mammoth task to present 75 years of his life in a two and half hour film," Marathi actor-turned-director Shashank said to a leading daily. Anirudda S Gaikar will be producing the movie which will be extensively shot in Ralegan Siddhi, Mumbai, Delhi, Kashmir, Ladakh, Rajasthan and various other places. "I want the film to inspire not only Indians but also people from all over the world. I want them to know how a man hailing from a small village could became a national hero with ethics, simplicity as well as love for country and mankind," Shashank remarked speaking to the leading daily.
Considering the fact that Shashank had previously directed a biopic on Shivaji Maharaj's son Sambhaji Raje, which is all set to release, we hope he does  justice to the biopic of Anna Hazare. Hai na peeps?