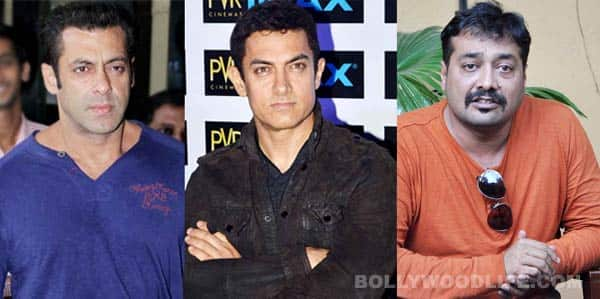 Looks like a lot of B-townies have a problem with the political world. Here's the latest goss
Not so long time ago Aamir Khan and Salman Khan were angry with Arvind Kejriwal's Aam Aadmi Party. Apparently, AAP had used a song from Sallu's film Jai Ho and Aamir's photo for their party promotions. Anyways, that's done and gone. Now we hear that Anurag Kashyap is now upset with BJP. So what happened, you ask? Well, reportedly the Bharatiya Janata Party has used a song Aarambh from Kashyap's film Gulaal. Gulaal (2009) was set against a political backdrop. We hear that BJP supporters are using the song Aarambh for their prime ministerial candidate Narendra Modi.
So Anurag Kashyap who directed the movie was shocked rather than surprised when he learnt about this and checked with the music company of the rights of the song were purchased by the party. However, the party hadn't bought the rights, we hear. Ajay Rai, the producer of Gulaal said, "Anurag asked if I had given the rights to BJP, to which I said no. I have the music rights, the producer holds the official rights of the song, and only he can sell it."
Anurag Kashyap told a popular tabloid, "Of course, we are not happy with them using the song. It is written and sung by Piyush Mishra and neither him nor I endorse BJP's Hindutva ideology, whatever it is camouflaged in. Piyush is a person, a voice of people's movement. It is his prerogative who he allows to use his voice. Just because they are who they are, they cannot bully his rights and use the song without his permission, that too illegally."
On the other hand, BJP spokesperson of Mumbai, Niranjan Shetty said, "I am not aware about the song. I will check with the party and if there is anything wrong, we will rectify it."
Well now, let's wait and watch what happens next. Keep watching this space for more updates!