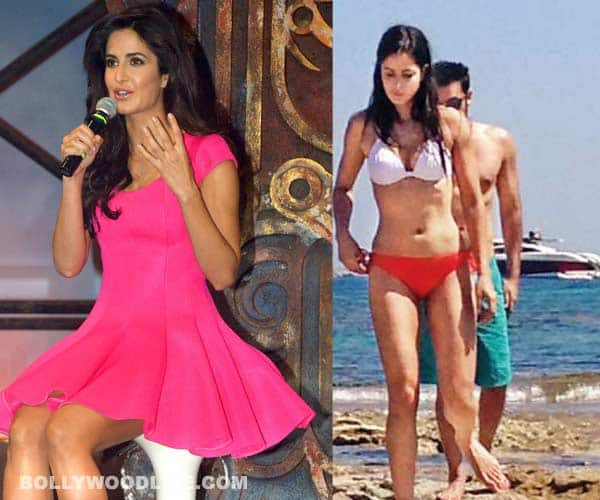 Ranbir-Kat's Spain holiday still continues to haunt this couple, the Dhoom:3 actor made sure she had no confrontation with the media until yesterday evening
Katrina Kaif just cannot run away from questions on her bikini pictures. The actor was finally facing the media that has waited long enough to finally hear Kat's comment on her Spain holiday with beau Ranbir Kapoor.Kat was evidently upset after the episode, so much that she had written an open letter to her media friends. The Chikni Chameli was also accused of leaking the bikini pictures by certain section of the media who felt that she was insecure about stories doing rounds of Ranboo and Deepika getting cozy in a cinema hall after Yeh Jawaani Hai Dewaani success. Katrina however addressed the bikini issue in a light manner. The actor said at the Dhoom machale dhoom song launch, "Next time when you all plan to take pictures give me a notice. Red doesn't look good with white (regarding the colour of her bikini)… I will wear matching next."
Like Katrina, even Ranbir had reacted coolly when quizzed about Kat's bikini pictures, "Picture mein Katrina Kaif bahut sundar lag rahi hai, aur Ibiza bhi bahut hi sundar jagah hai pls jaaker aap visit kijiyega"(Katrina looked very beautiful in a bikini and the beach in Ibiza id beautiful too, I recommend that you visit it too).
However, unlike Katrina or Ranbir, ex-boyfriend Salman Khan was miffed with the bikini pictures being splashed all over. A visibly upset Sallu had become the knight in shining armour for his ex lady love and attacked the reporter who questioned him about the bikini fiasco, "Aapki aisi tasveer, aapki maa ki beheno ki aisi tasveer ayegi toh aapko kaise lagega? Nahi, agar aapke boyfriend ki bhi aisi koi tasveer ajaye toh aapko bhi accha nahi lagega, toh I think jo aaapko achha nahi lagega, woh kisi aur ko bhi achha nahi lagega. Filmon me jo hota hai woh theek hai, lekin personal life ko aisa expose karna woh theek nahi hai, woh aapka adhikaar bhi nahi hai." (If your, your mother or sister's such pictures would be out in the media how would you feel? even if your boyfriend's such pictures came out would you like it? If you will not like such things, others won't like it too. What we do in films is a different matter, but exposing one's personal life in this manner is not right, you do not have any right to do something like this.)
The Dabangg star had followed all the buzz around his ex's holiday pictures; Salman even commented on Kat's letter to the media, "Ji maine padha bahut achha bahut khoobsoorti se, samajhdari se likha unhone yeh letter. Jo public appearances hai woh theek hai, jo private life personal pictures hai duniya ke saamne dikhana galat baat hai… kya boltey hai usko ghatiya baat hai." (I read that letter and I thought she had written it down very well, made a lot of sense. The public appearances we make is fine, but bringing our private moments and personal pictures isn't right, it is very cheap!)
With the bikini question finally answered by Kat, we're sure all the hype around her mismatched two-piece will die down. We hope that the couple who is painting the town red with their lovey-dovey outings will soon have more glamourous pictures to talk about. Do we hear Kat's buying a barbie pink swimming costume??? Wink, Wink!